https://www.storyboardthat.com/literary-terms?utm_source=Sendgrid&utm_medium=email&utm_campaign=AP-teachers-new-updates
Welcome to Storyboard That's Picture Encyclopedia of Literary Terms! We have put together a collection of storyboards to help you better understand various literary elements. In addition to the storyboards, we have included detailed definitions and examples for each of the key literary terms. Check out the list below! Create your own storyboard to expand your understanding of literary devices!
Click on any of the terms below to get started!
How Do I Use This?
Our digital picture encyclopedia resources have easy to understand information with a visual in order to activate understanding and retention. Storyboard That is passionate about creating resources that inspire children to be storytellers, and we want students of all ages to have the ability to showcase what they have learned.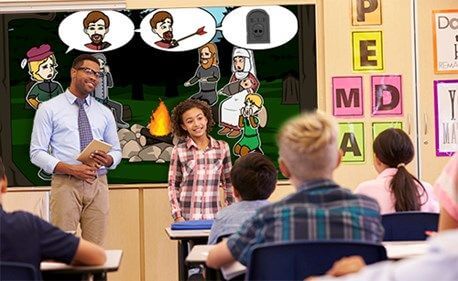 Assign a term/person/event to each student to complete their own storyboard
Create your own picture encyclopedia of a topic you are studying
Create a picture encyclopedia of the people in your class or school
Post storyboards to class and school social media channels
Copy and edit these storyboards and use as references or visuals
*(This Will Start a 2-Week Free Trial - No Credit Card Needed)
https://www.storyboardthat.com/literary-terms?utm_source=Sendgrid&utm_medium=email&utm_campaign=AP-teachers-new-updates
© 2022 - Clever Prototypes, LLC - All rights reserved.