https://www.storyboardthat.com/lv/lesson-plans/margaretas-atvudas-rokassomu-pasaka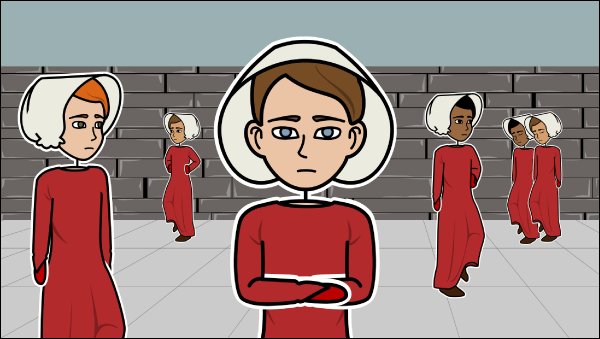 Margaret Atwood's explosive dystopian novel, The Handmaid's Tale, has seen a resurgence in popularity with the popular TV series released in 2017. Many have said that the series' release is timely because of the upsurge of troubling rhetoric that mirrors many of the dangerous ideas presented in the novel, both in the political arena and online.
Atwood's novel follows the despair of the main character, Offred, a woman who is a Handmaid in the monotheistic regime called The Republic of Gilead. In a world where environmental disasters and diseases dropped the fertility rates of Caucasian men and women, this new society created a sect of fertile women called Handmaids to breed the next generations for the upper echelons of the government. The society's use of religion as a means to subjugate women and men for political purposes is a warning of what could happen if women are not vigilant about protecting their rights.
Studentu aktivitātes Handmaids Pasaka
Women's Rights and Freedoms Research
Most women alive now will be unable to remember when voting was outlawed, or when most women were expected to stay home and forfeit their careers. For students, understanding that the freedoms and rights women have fought so hard for seems like ancient history; however, we have yet to celebrate the 100th anniversary of the ratification of the 19th Amendment. Have students do research on Women's Suffrage, the 19th Amendment, housewives in the 1950s and 1960s, and the feminist movements of various decades.
Consider linking students to these resources for these topics:
In addition, you may want to check out our lesson plans on "The Yellow Wall-paper", which has information related to how doctors used to view women's medical issues, especially postpartum depression.
Margaret Atwood
Margaret Atwood herself is a very interesting person and writer. Born in Canada, Canada is often a source of refuge in her novels, much like it is in The Handmaid's Tale. Known for her writings on feminism and her criticism of damaging environmental practices, Atwood is a prolific writer whose stories often brought some of these themes into the popular realm of discussion long before men like Al Gore did. Students should do some research on Margaret Atwood and take a look at some of her many interviews where she expounds upon the controversy surrounding her works and the recent Hollywood interest in her novels, including The Handmaid's Tale, Alias Grace, and The MaddAddam Trilogy.
Essential Questions for The Handmaid's Tale
What are the dangers of a totalitarian society?
Can religion be used as a weapon?
Should women be afforded the same rights as men in all parts of a society?
What does it mean to be a woman?
What is betrayal?
What is freedom?
What are gender roles, and who defines them?
*(Tas sāks 2 nedēļu bezmaksas izmēģinājuma versiju - kredītkartes nav nepieciešamas)
https://www.storyboardthat.com/lv/lesson-plans/margaretas-atvudas-rokassomu-pasaka
© 2021 - Clever Prototypes, LLC - Visas tiesības aizsargātas.