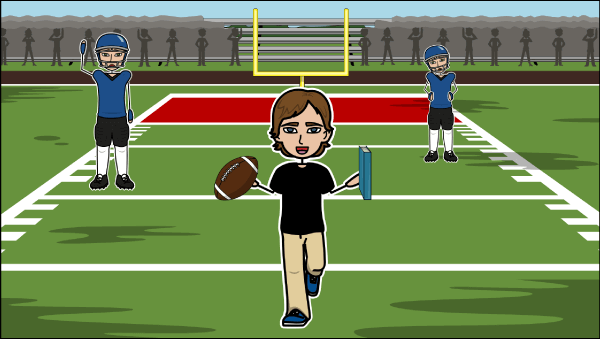 Maniac Magee, a novel by Jerry Spinelli, is about Jeffrey "Maniac" Magee, a boy who becomes an orphan when his parents die in a trolley accident. Maniac becomes a legend in Two Mills, a town with an East End for blacks and a West End for whites. Without a place to call home, Maniac bridges racial boundaries with his super athleticism, knot-untying abilities, and overall good character.
Manyak Magee için Öğrenci Etkinlikleri
Maniac Magee Summary
Maniac Magee begins by briefly introducing Jeffery's parents, before he abruptly becomes an orphan. Jeffery is "shipped off" to his impractical Aunt Dot and Uncle Dan for the next eight years; he eventually has enough and runs away.
Jeffrey runs from Hollidaysburg to Two Mills. Theories spread and questions arise about Jeffrey's running and how he ended up in Two Mills. Mysterious encounters occur between Jeffrey and members of the Two Mills community. The first is with Amanda Beale, a black girl who reluctantly allows Jeffrey to borrow one of her books.
Later, with this book in hand, Jeffrey intercepts a football from the varsity players and punts the ball with a perfect spiral back to Hands Down, the receiver. Then, Jeffrey relaxes on the front step of 803 Oriole Street, the dreaded Finsterwald address – a place where no kid ever chased a ball or Frisbee. Jeffrey makes his next appearance at Mrs. Pickwell's dinner table with seventeen others; he sneaks out before anyone realizes that he was an uninvited guest.
Jeffrey then finds himself at the Little League field in the park. John McNab had just struck out sixteen batters for a new record. McNab's ego is soon deflated as Jeffrey hits each of his pitches and even a "frogball" for an inside the park homerun. Jeffrey's appearances throughout the town earn him the name, "Maniac" Magee.
After the embarrassing incident at the baseball field, John McNab and the Cobras, a local gang, decide to get some revenge on Maniac. They chase him until Maniac crosses the boundary into the East End. Here they stop, considering Maniac a goner for going into the black side of town.
Almost immediately, Maniac gets into a confrontation with Mars Bar, another bully, like McNab. Amanda Beale comes to the rescue, and invites Maniac over. He spends the evening with her family, and attempts to hide his homelessness. When Mr. Beale realizes the truth, he insists that Maniac stay with them.
Maniac finally has an address. He loves his new life, and easily becomes part of the family. Unfortunately, not everyone likes Maniac: some are jealous of his athletic skills, knot-untying abilities, and fame. Others don't believe that a white kid should be living in a black neighborhood. Once Maniac notices the trouble he is causing the Beale's, he walks away – down the boundary line that separates the east from the west, ignoring the swearing and yelling coming from both sides.
Maniac begins sleeping with the buffalo at the Elmwood Park Zoo. He is discovered by Earl Grayson; an old man intrigued by Maniac's experiences living with a black family. Grayson in turn shares many stories about his baseball career, all while setting Maniac up in a cozy baseball equipment room. Surprisingly, Grayson is unable to read and asks Maniac to teach him. Maniac does just that, and even writes and illustrates a biography about Grayson's experience in the minor leagues. Maniac has found himself a home again.
Maniac and Grayson spend the Thanksgiving holiday together. Maniac happily paints 101 on the door marking his new home address and by Christmas, Maniac and Grayson are living together. On December 30th, Grayson passes away. Maniac cannot bear to stay in the baseball equipment room without his friend, and once again, begins running.
Maniac turns numb as he is overwhelmed by the abandonment he has experienced in his short life. He wanders to surrounding communities and spends the night in the wintery outdoors. One January day, Russell and Piper, John McNab's younger siblings, who have run away, interrupt Maniac's hibernation. Maniac convinces the kids to let him take them home.
After returning the children, Maniac begins staying at the McNabs – a garbage and cockroach infested home. He realizes two problems: the McNabs are preparing to fight the enemy (the East side) and the children are not being cared for. Maniac makes it his personal mission to solve these two problems. First, Maniac bribes Russell and Piper to attend school. With this bribery comes "heroic feats" that Maniac has to complete, including a dare to go to the East End. Deep in the East End, Maniac comes face to face with Mars Bar, who challenges him to a race. Not only does Maniac win the race, but he also humiliates Mars Bar by running backwards.
Somehow, Maniac convinces Mars Bar to attend a birthday party at the McNabs house; bringing a black person to the house angers George McNab, and the Cobras, making it uncomfortable for Mars Bar. The McNabs kick both Maniac and Mars Bar out, much to the embarrassment of Mars Bar and the disappointment of Maniac. Although the discrimination problem was not resolved, Maniac had blurred the boundary between black and white.
Essential Questions for Maniac Magee
What character qualities make a hero?
What is the meaning of "family" and "home"?
Why is having an address important?
What is prejudice?
Is it possible for one person to make a difference?