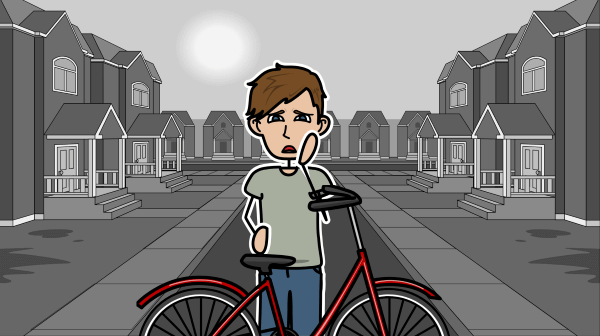 The Giver is a great book for students to read as an early introduction to dystopian literature. The story will prompt important discussions about certain themes, the concept of freedom, and more. The activities in this lesson plan will help students create fun and visual responses to the story, and can be extended to the rest of The Giver series if desired!
Activités étudiantes pour Le Donneur
The Giver Summary
Jonas is a typical 11 year old who lives in a seemingly perfect community. There is little pain, and no crime. People are polite, and everyone belongs to a supportive family. However this utopia comes at a price; there are no choices, emotions are forbidden, and life in the community is dictated by strict rules. In this society, Elders match spouses, and assign children to them before birth. Everyone looks similar in skin color and dress. Everyone in the community is also assigned a job.
When it is Jonas time to learn his job, he is chosen to be the new Receiver. This is the person who holds all the memories of the world for their society. Over time, Jonas learns about color, nature, beauty, pleasure, love, and family. As well as painful memories of loss, loneliness, poverty, injury, war, and death. The former Receiver (the eponymous Giver) explains that the community is founded on the principle of likeness, which requires the consistency of a world without emotion and memory to survive. He adds that these memories give the Receiver the true wisdom needed to guide the committee in all their decisions.
Before the resolution of the novel, Jonas learns how people in the community die, and he plans an escape so that Gabe (a toddler his family is caring for) will not be 'released' (killed). Jonas wants to give all the memories he possesses to everyone, despite warnings from the Giver that doing so could have devastating consequences. Jonas becomes upset and feels that, without memories, his family and friends live in ignorance.
This escape plan takes Jonas and Gabe on a journey. Jonas struggles with the thoughts, feelings, and emotions that the Giver has shared with him, before they reach a place that was in Jonas's first received memory. In the snow, Jonas and Gabe sled down a hill, happy for a moment.
Essential Questions For The Giver
What are the benefits and disadvantages of conformity?
What is true freedom, and do we have it?
What makes for a perfect society, and is it realistic?
Why should we embrace diversity and individuality?
Other Activity Ideas
Storyboard what the ending of the novel meant to you, personally. Since the ending is somewhat ambiguous, and can mean so many things to different people, reflect on what it means to you.
Create an alternate ending to the novel with a storyboard that shows and tells the story from a different perspective.
Complete a storyboard showing the rules that Jonas' has as Receiver.
Depict your favorite part of the novel using storyboards and share with your classmates.
Make a storyboard depicting how Jonas' world seems perfect and what is it lacking.
Add a presentation to any storyboard project.