Perfect for Schools and Districts
Fast and Easy to Set Up

Import your Google Classroom rosters. No fuss.



Fast and Easy to Use

Students and teachers sign in with their Google Classroom credentials. No new passwords!



Transparent Pricing

We charge $149.99 per teacher per year OR $3.49 per student per year—whichever is lower!
Schedule a Sales Call
Schedule a time that works for you we can get you up and running within 24 hours!
We also support Clever, ClassLink, Canvas, and Schoology.
Import Rosters from Google Classroom
If your school uses Google Classroom, awesome! You and your students can log in using Google Classroom, making it easy to connect with Storyboard That. There's no need to worry about remembering new login information. We'll help you get started!
What You Will Need
A Storyboard That Teacher account with an active subscription or a free trial
Your classes and students imported and set up in Google Classroom
This process will import classes and students from your Google Classroom roster into your teacher account, creating corresponding classes and student accounts in Storyboard That.
Go to Storyboard That login page: login.storyboardthat.com
Click the Google SSO button
Follow the prompts to log into Storyboard That with Google
Note: If your school uses more than one Google email address, make sure you use the email address and account connected with your Google Classroom
You've arrived on your Dashboard!
Click the "Set Up Students" button
Click the "Import Your Classes" button to import your Google Classroom roster into Storyboard That
If prompted, sign into your Google Classroom account again
Choose the class(es) you wish to import
Click "Import Classes"
Once classes have been imported, your students now have Storyboard That accounts and will log in with the Google SSO button
Students can log in with Google here: login.storyboardthat.com
Updating Class Rosters with Google Classroom
If your roster changes and you need to add additional students or classes, you can re-roster with Google Classroom. To re-roster, you will follow the same steps outlined above, and only the new class(es) and student(s) will be imported. Existing classes and students will not be duplicated.
How Do Students Log In?
After rostering, students will log into their Storyboard That accounts with Google
Go to Storyboard That login page: login.storyboardthat.com
Click the Google SSO button
Arrive on the Student Dashboard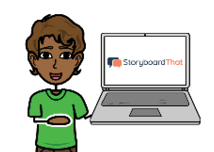 Next Steps
Once you've created classes and added students, you can start creating assignments.
Let us show you! Schedule a
Training Session
with us!
*(This Will Start a 2-Week Free Trial - No Credit Card Needed)