Stvaranje cementa omogućilo je čovječanstvu da konstruira stalne građevine i značajne građevine koje bi izdržale elemente i katastrofe. Korištenje cementa postavilo je temelje modernom društvu kao početak cijele industrije i trgovine, a koristi se za gradnju gradova, luka, zaštitnih struktura, vodovoda i još mnogo toga.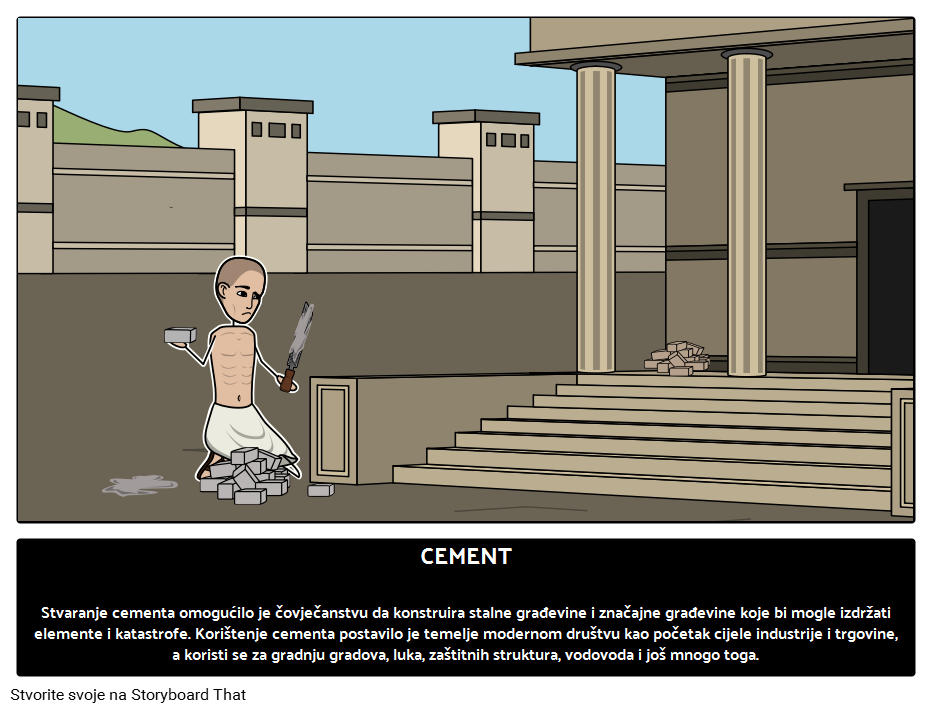 Development of Cement
Today, there are several different types of cement, and each has its purpose. The invention of cement allowed humans to build significant structures that could withstand the elements and even disasters. Many of Rome's cement constructions still stand, including the Pantheon and some aqueducts. Cement was a fundamental ingredient in civilizing and modernizing the world; it enabled humans to construct aqueducts, which provided fresh, clean water and heightened sanitation. Cement made it possible for humans to settle in one place and to urbanize their settlements. The ability to construct public buildings and amenities that could withstand the elements, disasters and even invasion truly laid the foundation for modern society. Necessity led to the discovery of cement; cement led to a more modern and civilized society; and then, necessity again pushed the technology forward to its current state.
While the earliest known occurrence of cement was about 12 million years ago, through the natural burning of oil shale that was adjacent to limestone, the first known intentional use of cement was in 7000 BCE. A lime concrete floor made from quicklime - burnt limestone - stones, and water, was discovered in Israel in 1985. The next use of lime cement wasn't until millennia later when the ancient Egyptians used lime cement as a concrete mortar to bind blocks and fill in stone walls. From there, lime cement spread to other regions of the Mediterranean, and by circa 500 BCE, the Greeks were using it to fill sun-dried brick walls.
Later, the Romans improved the substance by adding volcanic ash, which made the cement stronger and able to set under water. This type of cement came to be known as "pozzolanic cement", after the village of Pozzuoli near Mt. Vesuvius. The Romans used this mixture to construct several large buildings, including the Pantheon. Where volcanic ash was limited, ground tile or crushed brick was added to strengthen the cement. The Roman architect and engineer Marcus Vitruvius Pollio described cement and concrete in his Ten Books of Architecture in the 1st century BCE. After the Romans, however, there seems to have been a loss of construction skills in Europe. During this decline, mortars were hardened by the slow process of carbonation of lime; pozzolana was rediscovered later in the Middle Ages.
The Spanish introduced a building material called tabby to the Americas in the 16th century. It was composed of oyster-shell lime, sand, and whole oyster shells. In the 17th and 18th centuries, engineers started to experiment with cement compositions again. This experimentation led to the invention of an early Portland cement by Joseph Aspdin. Cement technology was advanced further due to the need to construct lighthouses in Britain to prevent the loss of ships and cargo. In 1759, it was found that a mix of lime, clay, and crushed slag from iron-making resulted in a mortar that hardened under water. By 1824, Aspdin had patented this new cement composition and called it Portland cement because the substance looked like Portland stone, which was commonly used in England. The cement was made of fired finely-ground clay and calcined limestone.
It was in 1845 when Isaac Johnson made the first modern form of Portland cement when he fired a mixture of chalk and clay at higher temperatures than did Aspdin. The higher temperatures (1400°-1500°C) causes 'clinkering', which results in the formation of minerals that are reactive and stronger. The rotary kiln was invented in the 20th century and quickly replaced vertical shaft kilns, which were used to make lime. The improved kilns used radiative heat transfer, which was more efficient at higher temperatures. As well, around the start of the 20th century, gypsum was added to control the setting of the cement, and ball mills to grind the clinker. These more recent developments resulted in the modern Portland cement that most know and use now. Literally and figuratively, cement is part of the foundation on which modern society was built and stands..
Primjeri učinaka cementa
Izgradnja cementa zauvijek je promijenjena; cement je sada bitan materijal koji se koristi u bilo kojoj velikoj konstrukciji širom svijeta.


Egipćani su koristili cement za izgradnju piramida i drugih struktura.


Cement je korišten za izgradnju rimskog Panteona, Kupaonice Caracalle, Koloseuma, akvadukata i još mnogo toga.


Cement je promijenio trgovinsku industriju; vulkanskog pepela i drugih elemenata isporučen i trgovan diljem Mediterana.


Utjecaji na okoliš proizvodnje cementa uključuju emisije prašine, plina, buke, vibracija, oštećenja na zemlji od kamenoloma, emisija CO 2, emisija teških metala i još mnogo toga.


Marcus Vitruvius Pollio je napisao o cementu i njegovoj inovativnoj uporabi u deset knjiga o arhitekturi .


Konkretna i industrijska revolucija bila je moguća i utjecaja izumom cementa.