https://www.storyboardthat.com/help-and-faqs/storyboard-copyright-faq
Top Usage FAQs
Can I post a storyboard I made to my blog?
Yes! Definitely! As often as you want.
Can I use it for the children's book I'm writing?
Not on a free account. Otherwise, yes! Just let your publisher know.
Can I use Storyboard That for internal corporate purposes?
Yes, as much as you want, with a corporate account.
---
So, Can I…?
We get emails everyday from customers asking if they can use their storyboards for all sorts of projects. We usually get to say, "Yes! No problem!"
We're really excited to share our art with you, and to see you sharing your storyboards with the world! If you want to post your creations on your non business blog, Facebook page, or school publication, don't even hesitate, go for it! Just include a link back to us.
But (and we really don't want to be jerks about this), our artists have poured a lot of time and effort into making all the amazing characters, scenes, and props you see on Storyboard That. While we're happy for you to use them for all your personal and strictly educational purposes, if there is going to be money involved, there are a few rules we need to go over.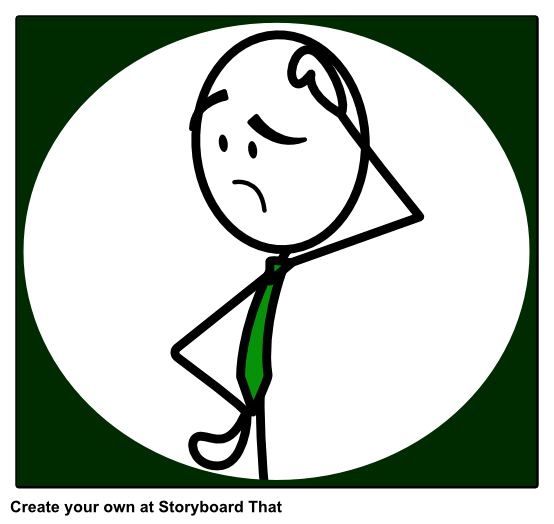 ---
This doesn't mean we own what you make, but we do keep the rights to all of the raw imagery. Of course, since you have an account with us, you can still use it for most purposes.

As an example, we get a lot of questions from people asking if they can use Storyboard That for the children's book they are writing. Any premium account (Individual, Educational, or Corporate) can go right ahead and publish! Just make sure to tell your publisher that you do not own the rights to the illustrations; they will want to know! If you are self-publishing, just make sure you're following Rule #2 and Rule #4.
---
Rule #2:
Limits of Commercial Use

If you have a free account, you can't be making money with Storyboard That. Here's two questions you should ask to see if what you're doing is okay:

Is there a person working full time, or a group of people whose time adds up to 40 hours a week?
Are you generating $5,000/month?

If the answer to either of these questions was "yes", that's "commercial use" and you need to check the pricing page to make sure you have the right kind of premium account. Also, if your marketing budget is over $10,000, get in touch with us first. Otherwise, don't sweat it.
---
Rule #3:
Storyboard That is NOT a Clip-Art Repository

Storyboard That is a creation platform, not a place for purchasing or collecting stock images. So, don't take individual art assets and resell it as your original work. For instance, you can't just take one of our awesome dragons, put it on a coffee mug, and then sell it to the internet.
If you want to merchandise or market with Storyboard That images make sure:
You still follow Rules #2 and #4 (see below)
You are using compositions, not individual assets. An art asset is any single scene, character, or item that you can find in the Storyboard Creator.
By composition, we mean a combination of at least three assets. For instance, a character standing in a scene and saying something is a composition. The character alone, even if it is posed, is not a composition. Check out the storyboard below for some helpful visuals!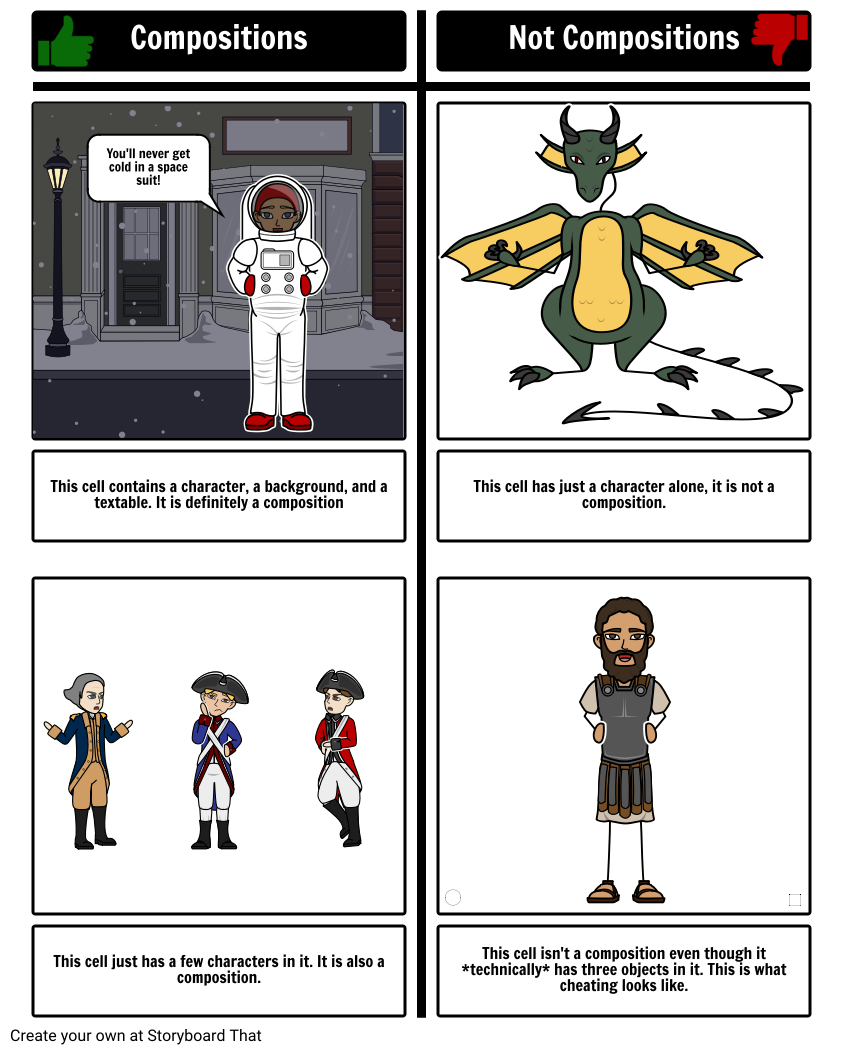 ---
We are trying to be as generous as possible with Storyboard That, which is why we are so happy for people to share their creations. All we ask in return is that Storyboard That is credited anytime the art is seen publicly. The proper text is included on all storyboards by default; as long as you don't crop that text out, you'll be fine.

If you are just using a single cell, put "Create your own at Storyboard That" in one of the corners.

If you use Storyboard That art in a video, you don't need to credit every image, but make sure we are clearly credited at the end.

If you have a free account, include a link to the website, so others can find us directly. (If you have a premium account, please feel free to do this as well. We love the attention, but it isn't mandatory.)
Clarifications
When using the Photos for Class or Photos for Work integration, make sure you verify the images' licenses. Images pulled from the search feature in the Storyboard Creator are cited automatically on the bottom of your storyboard. To make looking for the right kind of license easy, you can control what licensed images appear in a search result in your account settings.

Even if you are a business, internal use of storyboards doesn't need to include citation and is okay no matter the budget involved.

We don't count reviews of Storyboard That as commercial use.
We hope this clears up most of the questions you might have about whether you can use Storyboard That in your next project. If you need more detailed information, you may want someone with some legal savvy to look over our terms of use or email us at Contact-Us@StoryboardThat.com.
*(This Will Start a 2-Week Free Trial - No Credit Card Needed)
https://www.storyboardthat.com/help-and-faqs/storyboard-copyright-faq
© 2022 - Clever Prototypes, LLC - All rights reserved.

StoryboardThat is a trademark of Clever Prototypes, LLC, and Registered in U.S. Patent and Trademark Office