Check out our huge selection of worksheet templates! Create digital worksheets or printable exercises for your students with minimal prep time! Select from the categories below to view our custom worksheet template libraries.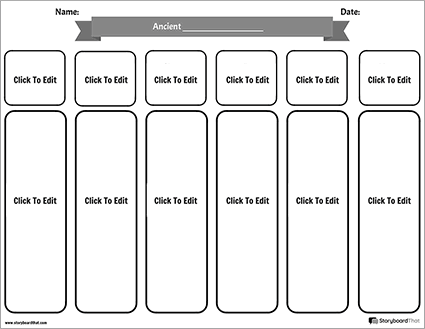 Featured Worksheets
Our team of teachers has been hard at work adding incredible, customizable worksheets to our template library. You will find worksheets for all subjects, in color and black and white, and in the landscape and portrait layout. Want to create your own worksheet template? You can do that too! Our interactive online worksheet maker in the storyboard creator is easy to use, and has tons of options for original worksheets.
Why Use Storyboard That Worksheets?
Our huge collection of worksheets will help save you tons of time. We have everything from fractions, to reading comprehension, to exit tickets, to maps! We give you the starting point that you need in order to create fantastic, original worksheets that are FUN for students to complete! Simply customize and reuse over and over again!
How to Use Storyboard That Worksheets
We have made it incredibly easy to use our worksheets. Simply find a worksheet that you like, and click on the copy template button. This will bring you directly to the storyboard creator, where you will give your worksheet a name, customize as you see fit, and save! Once you arrive in the storyboard creator, you can change anything and everything about the template, or leave the design as it is and add your personalized information. You may assign worksheets to your classes digitally, or print and copy. The choice is yours!
How to Make a Worksheet
1

Click on the "Create a Storyboard" Button

This will bring you to the storyboard creator.
2

Give Your Worksheet a Name

We suggest giving it a detailed name so that you know how to find it in the future. Click continue.
3

Choose a Layout!

Now that you are in the creator, click on the "layout" button in the right hand menu. Choose the "worksheet" layout.
4

Choose a Page Orientation

Choose whether you want your worksheet to be horizontal or vertical and click "okay".
5

Explore Our Worksheet Assets

To find Storyboard That's worksheet assets, click on the "worksheets" button in the top row. If you are on a small screen such as a Chromebook, you may have to press the "more" button to find this option.
6

Add Assets

Once you are in the worksheets category, you will find all kinds of assets such as borders, graphic organizers, lines, multiple choice circles, name and date headers, and so much more. Simply drag and drop where you want the assets to go. We even have specific subject matter assets for math and science.
7

Save and Exit!

Once you have made your own worksheet, click save and exit. From here you are able to print, download, or assign your worksheet digitally.

Creating a worksheet from scratch with our worksheet generator can be fun, but don't forget: you can copy one of our premade templates or storyboard worksheets and make major changes to it. Our handout templates for teachers are a huge timesaver, and while the teacher worksheet maker is fun, it will be quicker to copy and customize.
Why Use Storyboard That?
Storyboard That is the perfect tool for novel lesson plans and activities because it's so easy to use and extremely versatile. With Storyboard That, you can create a wide variety of storyboards such as the story from the main character's perspective, or any other character's point of view.
You can also use Storyboard That to create a summary of the book, a movie poster, or analyze themes and events. Plus, our printable worksheets make it easy to take the fun offline.
Why is Storyboarding a Great Method of Teaching?
Storyboarding is an incredibly powerful tool for educators because it helps students process and understand the information in a deep, meaningful way. When students storyboard, they are actively engaged in the learning process and can make connections between the text and their own lives.
Storyboards also promote higher-level thinking by encouraging students to synthesize information and think critically about what they have read. Finally, storyboards are a great way to assess student understanding because they provide a visual representation of student learning.
Frequently Asked Questions about Worksheet Templates
What is a worksheet template?
A worksheet template is a starting off point for teachers to use when they are looking for worksheets for their students. All of the major components have already been added; all teachers have to do is add text to make it their own!
How do I use a worksheet template?
To use a Storyboard That worksheet template, simply copy the template into your library, give it a title, and make it your own!
What is a digital worksheet?
A digital worksheet is an activity that can be assigned and completed online. Storyboard That has lots of different digital worksheets for all subjects and ages.