https://www.storyboardthat.com/create/summary-synthesis-worksheets
If you're assigning this to your students, copy the worksheet to your account and save. When creating an assignment, just select it as a template!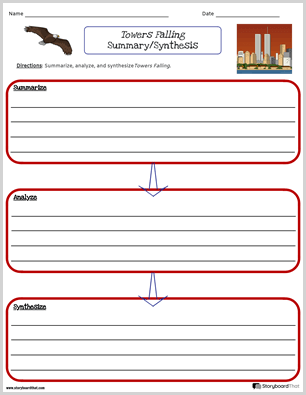 What is a Summary / Synthesis Worksheet?
Summary and synthesis worksheets ask students to paraphrase key information, analyze the importance of that information, and synthesize or draw a conclusion about that information. A summary deals with one text, whereas a synthesis is a response to multiple texts. The templates below are designed to help students synthesize the information they draw from multiple sources.
Why are they important and how are they best used?
A summary synthesis draws on more than one source of information in order to analyze the information and reach a conclusion. Summary synthesis assignments can be used to craft literature reviews, articles, or source evaluations. They can also be used in synthesis papers where students must write on one topic while drawing from a wide range of sources.
Summary and Synthesis Worksheets
To make a summary / synthesis worksheet, choose a template above! Once you're in the Storyboard Creator, click on each of the elements on the template to change them to fit your needs. When you're done, hit "Save & Exit"! You can print off your worksheet from the next screen, or it will be saved to your account.
Happy Creating!
*(This Will Start a 2-Week Free Trial - No Credit Card Needed)