https://www.storyboardthat.com/create/creative-writing-worksheets
If you're assigning this to your students, copy the worksheet to your account and save. When creating an assignment, just select it as a template!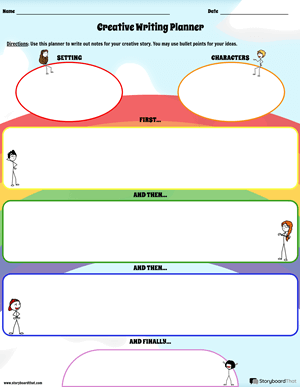 What is a Creative Writing Worksheet?
Creative writing worksheets help students plan different story formats, with story maps to guide plot or fun shapes to fit a theme or idea.
Why are they important and how are they best used?
Creative writing is often where students get the most enjoyment out of writing in school and where they can exercise their imaginations. These templates help students develop their plot sequence, create personalities for characters, and shape conflict. The shaped templates give students an opportunity to write about themes, ideas, or create stories in a shape that differs from standard lined paper.
Creative Writing Worksheets
To make a creative writing worksheet, choose a template above! Once you're in the Storyboard Creator, click on each of the elements on the template to change them to fit your needs. When you're done, hit "Save & Exit"! You can print your worksheet right away, or simply keep it in your storyboard library until you are ready to use it.
Happy Creating!
View all
Worksheet Templates
!
Schedule a free Guided Session with us to become a Storyboard That pro!
*(This Will Start a 2-Week Free Trial - No Credit Card Needed)