If you're assigning this to your students, copy the worksheet to your account and save. When creating an assignment, just select it as a template!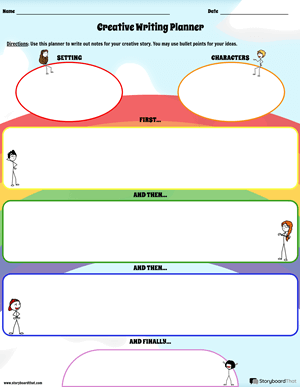 What is a Creative Writing Worksheet?
If you are someone who enjoys writing, you probably know that it takes more than just creativity to produce an engaging story or a captivating poem. These kills require a lot of practice and a structured approach. This is where creative writing worksheets come in handy. Whether you are a seasoned writer or just starting, these worksheets can help you express your thoughts and ideas more effectively. These worksheets help kids plan different story formats, with story maps to guide plot or fun shapes to fit a theme or idea.
Why are Creative Writing Templates Important and How are They Best Used?
Creative work is often where children get the most enjoyment out of writing in school and where they can exercise their imaginations. These templates help develop their plot sequence, create personalities for characters, and shape conflict. Moreover the templates give students the opportunity to write about themes and ideas in a format that is different from traditional lined paper, which can stimulate their creativity and make the process more fun and interesting.
Creative writing worksheets, such as story template writing and creative writing outline template, are essential tools for developing writing skills. They offer a structured approach to learning and practicing writing skills by breaking down the writing process into manageable steps and providing prompts and activities. By using these worksheets, students can learn how to organize their thoughts, create an outline, and develop a cohesive and engaging plot. This can help writers build confidence in their abilities and develop a better understanding of how to craft a well-written story or essay.
In addition to providing structure, these worksheets also encourage creativity and self-expression. By presenting your class with prompts that challenge them to think outside the box, these worksheets can help them express themselves in unique and innovative ways. Moreover, they can ignite a passion for writing and storytelling, which can translate to other aspects of their lives.
Besides promoting creativity, these worksheets also reinforce language skills, including vocabulary and grammar. By including prompts that focus on specific vocabulary or grammar concepts, students can learn and practice those concepts in a way that is engaging and memorable.
Types of Creative Writing Worksheets
Writing Paper: Writing paper is a basic worksheet that provides a blank space for you to write your story or poem. It is an essential tool for any writer, and you can find various types of paper, including lined paper, graph paper, and plain paper.
Story Planning Template: A story planning template is a worksheet that helps you plan your story. It includes sections for characters, setting, plot, and other important elements. This template is useful for those who want to organize their ideas before starting to write.
Story Writing Outline: A story writing outline is a worksheet that helps you create a structured outline for your work. It includes sections for the beginning, middle, and end, as well as character development and plot progression.
Creative Writing Template: This is a worksheet that provides a framework for your writing. It can include sections for different types of writing, such as descriptive writing or poetry, and can be used to structure your process.
Butterfly Writing Template: A butterfly writing template is a fun and engaging worksheet that helps you explore different perspectives and viewpoints. It includes sections for different viewpoints, such as the perspective of an insect or a flower, and can be used to write stories or poems.
Creative Writing Planning Sheet: A creative writing planning sheet is a worksheet that helps you plan. It includes sections for brainstorming, outlining, and organizing your ideas.
Creative Writing Storyboard: A creative writing storyboard is a worksheet that helps you visualize what you want to writer about. It includes sections for different scenes and can be used to plan your story's progression visually.
Creative Writing Prompts: These prompts are worksheets that provide inspiration. They can include prompts for different types of writing, such as poetry or fiction, and can help you generate new ideas.
Making Creative Writing Worksheets from Scratch
Determine Your Objective: Start by identifying what you want your students to achieve through the worksheet. Do you want them to practice a specific writing skill or develop their creativity? Knowing your objective will help you create prompts and activities that are focused and effective.
Choose a Format: Decide on the format that you want your worksheet to take. Different formats work better for different objectives, so choose one that aligns with your goal.
Create Prompts and Activities: Develop prompts and activities that are tailored to your objective and format. For example, if you want your class to practice descriptive writing, you could provide a prompt that asks them to describe a particular object or scene.
Incorporate Visual Aids: Consider using visual aids, such as images or illustrations, to help students generate ideas and engage with the material. This can make the worksheet more interesting and accessible.
Test and Revise: Once you have created your worksheet, test it out with a small group of students to see how effective it is. Take feedback on board and make revisions as needed to ensure that the worksheet meets your objectives and engages students in the writing process.
Tips For Creating Your Own Creative Writing Worksheets
If you want to create your own worksheets, here are some tips to help you get started:
Determine the Purpose of Your Worksheet: Decide what type of worksheet you want to create and what it should accomplish.
Choose a Template: Select a template that fits the purpose of your worksheet. There are many templates available online that you can use as a starting point.
Include Prompts or Examples: To help your class or yourself get started, include prompts or examples that will inspire creativity.
Make it Visually Appealing: Use images, colors, and fonts to make your worksheet visually appealing.
Making a worksheet from scratch can be fun, but using one of our premade templates will be so much easier! Check out how below.
How to Make Creative Writing Worksheets
1
Choose One of the Premade Templates
We have lots of amazing templates to choose from. Take a look at our colorful example for inspiration!
2
Click on "Copy Template"
Once you do this, you will be directed to the storyboard creator.
3
Give Your Poster a Name!
Be sure to call it something related to the topic so that you can easily find it in the future.
4
Edit Your Poster
This is where you will include details, text, images, and make any aesthetic changes that you would like. The options are endless!
5
Click "Save and Exit"
When you are finished with your poster, click this button in the lower right hand corner to exit your storyboard.
6
Next Steps
From here you can print, download as a PDF, attach it to an assignment and use it digitally, and more!
Using Creative Writing Worksheets Effectively
Once you have created your worksheets, here are some strategies for using them effectively:
Incorporate them into your teaching: Use creative writing worksheets as part of your classroom curriculum to help your students improve their writing skills.
Use them as a warm-up: Use creative writing worksheets as a warm-up activity before beginning a writing project to get your creative juices flowing.
Share examples: Share examples of completed worksheets to help your class understand how to use them effectively.
Even More Storyboard That Resources and Free Printables
Happy Creating!
Frequently Asked Questions About Creative Writing Worksheets
In what ways do creative writing worksheets help improve writing skills?
These worksheets, including story planning templates and story outlines, are a versatile tool for improving composition skills. They provide a structured approach, while offering prompts and activities that focus on specific skills such as character development or descriptive writing. In addition to helping students develop creativity, vocabulary, and grammar skills, these worksheets can improve critical thinking skills by asking writers to analyze and interpret literary texts or create their own stories and characters. By providing a framework for them to organize their thoughts and ideas, these templates can be especially helpful for kids who struggle with getting started on a written assignment. Overall, they are a valuable resource for helping students become better writers and more confident communicators.
How can creative writing worksheets be used to teach different writing genres?
These worksheets can be adapted to teach different genres, such as poetry, fiction, and non-fiction. For example, a worksheet could focus on developing descriptive language for poetry writing, or on creating character profiles for fiction writing. By tailoring the prompts and activities to specific genres, children can learn the skills needed to write in those genres.
How can creative writing worksheets be used to encourage creativity?
Examples and worksheets can be used to encourage creativity by providing prompts and activities that inspire writers to think outside the box. For example, a worksheet could ask students to write a story from the perspective of an inanimate object, or to create a new world with its own rules and customs. By encouraging writers to explore their imagination and creativity, our worksheets can help foster a love of the written word and storytelling.
How can teachers help students who want to know how to start creative writing using worksheets?
Teachers can help by providing clear instructions and guidance on how to use the worksheets effectively. This can include demonstrating how to use story planning templates and outlines to organize their thoughts and ideas, as well as providing prompts and activities that inspire creativity and encourage writers to think outside the box. Additionally, teachers can offer feedback and support throughout the process to help students develop their creative ideas, writing skills and build confidence. By providing a supportive and structured learning environment, teachers can help students of all levels improve their abilities and achieve their goals.