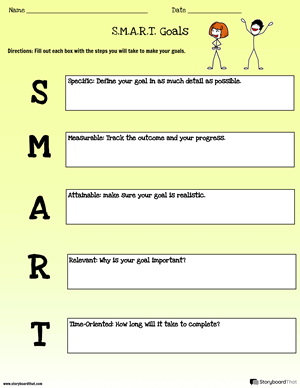 What is a Student Planner Worksheet?
Student organizers are useful for helping students keep track of assignments, materials, and deadlines. On these templates, students can organize their tasks by dates and deadlines, or by priority.
Why are they important and how are they best used?
Many students may find organizers useful for planning their days, their weeks, their homework, or larger projects. Student organizers can also be used by teachers to ensure that students have all of the materials they need each day, and can provide an important communication tool between parents and teachers for students who struggle with organization.
Student Planner Worksheets
To make a student organizer worksheet, click the "Customize this Example" button below. Once you're in the Storyboard Creator, click on each of the elements on the template to change them to fit your needs. When you're done, hit "Save & Exit"! You can print off your worksheet from the next screen, or it will be saved to your account.
If you're assigning this to your students, copy the worksheet to your account and save. When creating an assignment, just select it as a template!
Happy Creating!
*(This will start a 2-Week Free Trial - No Credit Card Needed)