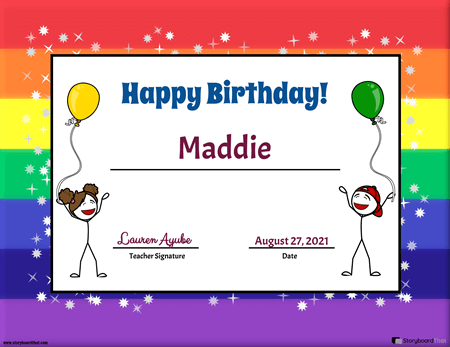 What are Birthday Certificates?
Birthday certificates are the perfect way to help your students celebrate their special day!
Why are they important and how are they best used?
Kids love to have their birthday recognized, especially at school! Celebrate your students by giving them a special certificate just for them! With a variety of certificates to choose from, you are sure to find something that suits the personalities of all of your students. All certificates are completely customizable. You may type directly into the template, or print out the template and fill it in by hand.
Birthday Certificate Worksheets
To make a birthday certificate worksheet, choose a template above! Once you're in the Storyboard Creator, click on each of the elements on the template to change them to fit your needs. When you're done, hit "Save & Exit"! You can print your worksheet right away, or simply keep it in your storyboard library until you are ready to use it.
Happy Creating!
*(This Will Start a 2-Week Free Trial - No Credit Card Needed)