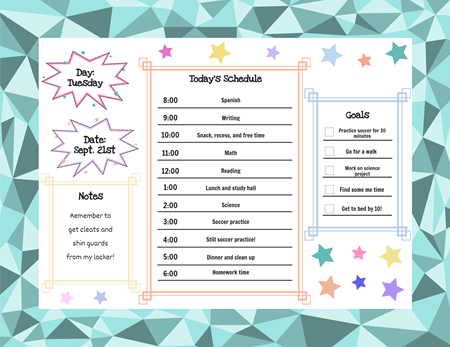 What is a Daily Planner Template?
A planner template helps outline deadlines, goals, and objectives. Daily planners are excellent tools to help students and teachers manage their time and schedule on a daily basis. A printout or a digital worksheet version makes it easy for students and teachers to edit accordingly and stay on top of schedule changes!
Why are they important and how are they best used?
Planners are great, and sometimes required, tools for teachers, students, and teams in schools. Teachers can outline their upcoming lesson plans briefly on planner sheets, and adjust them according to class learning speeds. Daily planners allow students to keep all of their assignments, projects, meetings, class times, and activities all in one place. When used habitually, daily planners help students stay on track and remember their schedules as they change each day. Planners are also used by teachers and teams to set professional and student goals for the year. They are useful for breaking down tasks, deadlines, and expected outcomes.
Make Daily Planner Worksheets
To make a daily planner worksheet, choose a template below! Once you're in the Storyboard Creator, click on each of the elements on the template to change them to fit your needs. When you're done, hit "Save & Exit"! You can print off your worksheet from the next screen, or it will be saved to your account.
If you're assigning this to your students, copy the worksheet to your account and save. When creating an assignment, just select it as a template!
Happy Creating!
*(This will start a 2-Week Free Trial - No Credit Card Needed)