If you're assigning this to your students, copy the worksheet to your account and save. When creating an assignment, just select it as a template!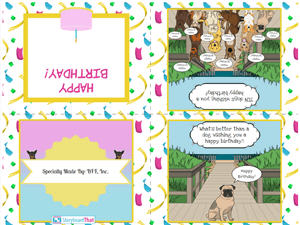 What are Card Templates and How Are They Best Used?
Card templates are pre-designed layouts that make it easy to make something amazing quickly and efficiently. They are often used in conjunction with a card maker or card generator and come in various styles, from free printable card templates to a blank template that allows for complete customization. Online card makers provide users with the ability to create and customize cards using various graphic elements and editing tools. These tools allow users to add, edit, and manipulate all the images and text on a card. Design something to suit any occasion, from invitations to business cards, there are a wide range of options to create online and then have your work available to download or print, and they can be customized to fit any layout, style, or font. Whether you are looking to market your business or simply create a greeting card, the possibilities are endless with the design ideas and custom card maker options available.
Creative Ideas For Card Design
Looking for creative design ideas? Try using a card generator template or generator to jumpstart your inspiration. With a variety of designs available online, you can easily customize your design with different graphic elements, fonts, and layouts, which is even more useful if you work in areas like marketing. Online card generators and creators offer editing tools to personalize your design, and you can even download and print your finished product. Whether it's for an invitation, business card, or just a personalized greeting, we can help you create a unique and eye-catching design.
How to Make a Card
1

Choose One of the Premade Templates

We have lots of templates to choose from. Take a look at our example for inspiration!
2

Click on "Copy Template"

Once you do this, you will be directed to the storyboard creator.
3

Give Your Worksheet a Name!

Be sure to call it something related to the topic so that you can easily find it in the future.
4

Edit Your Worksheet

This is where you will include directions, specific questions and images, and make any aesthetic changes that you would like. The options are endless!
5

Click "Save and Exit"

When you are finished with your worksheet, click this button in the lower right hand corner to exit your storyboard.
6

Next Steps

From here you can print, download as a PDF, attach it to an assignment and use it digitally, and more!
Make Your Own Cards from Scratch with Storyboard That Online Card Template Maker
The storyboard creator allows users to customize each element of the template to meet their specific requirements. Once finished, the user can save and print the worksheet or keep it in their storyboard library for future use. Additionally, the tool offers free icons, pictures, and different file formats to choose from.
Even More Storyboard That Resources and Free Printables
Happy Creating!
Frequently Asked Questions About Card Templates
What are card worksheets, and why are they relevant in the classroom?
Card worksheets are materials used in teaching that aid students in creating different types of functional cards, such as invitations, greeting, and gift cards. They help in enhancing the creativity and design skills of students while teaching practical skills like layout and font selection.
What are the benefits of using card worksheets in the classroom?
Using free printable card templates and a custom card creator to design your own card can have multiple benefits for students in the classroom. It can enhance creativity and design skills while also teaching practical skills such as layout and font selection. Additionally, making custom designs online can be a fun and engaging activity that promotes motivation in learning. Furthermore, to make design for real-world contexts like friends and family or mock companies can provide valuable experiences for students.
Are card worksheets suitable for all grade levels?
All worksheets can be adapted for different grade levels and subject areas. They can be simplified for younger students or made more complex for older students. Teachers can also choose to focus on specific skills or concepts depending on the grade level and subject area.