https://www.storyboardthat.com/create/long-composition-worksheets
If you're assigning this to your students, copy the worksheet to your account and save. When creating an assignment, just select it as a template!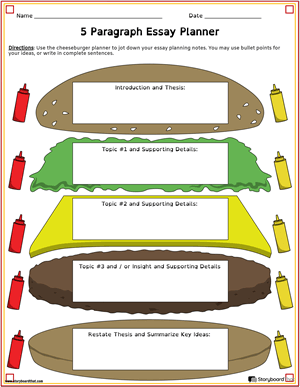 What is a 5-Paragraph Essay or Long Composition Worksheet?
A 5-paragraph essay is an excellent formulaic strategy for students to use when writing a long expository composition for class or for standardized tests. Planning worksheets usually have an introductory paragraph with a place for a thesis statement, three body paragraphs, and a conclusion.
Why are they important and how are they best used?
One of the best strategies for teaching students how to form an essay on a topic is to have them use the 5-paragraph essay, or long composition, structure. This method asks students to pick out three solid, relevant pieces of information, and to buttress that information with a solid introductory paragraph and a concluding paragraph. The 5-paragraph essay is also a good choice for any student writing an essay for the SAT/ACT.
Long Composition Worksheet Template
To make a long composition worksheet, choose a template above! Once you're in the Storyboard Creator, click on each of the elements on the template to change them to fit your needs. When you're done, hit "Save & Exit"! You can print off your worksheet from the next screen, or it will be saved to your account.
Happy Creating!
*(This Will Start a 2-Week Free Trial - No Credit Card Needed)