If you're assigning this to your students, copy the worksheet to your account and save. When creating an assignment, just select it as a template!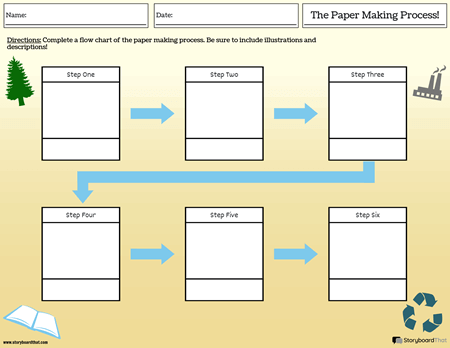 What is a Flow Chart Worksheet?
A flow chart worksheet takes a flow chart, or part of a flow chart, and lays it out on a page. These worksheets may have a single sequence or different branches to follow.
Why are they important and how are they best used?
The flow chart is designed to focus on one step at a time and often include choices or options that may change the direction of the path. This type of worksheet is best for a process, sequence, or decision tree. Move the positioning of the arrows as necessary to show options/decisions and add shapes to show a more traditional flow chart.
Flow Chart Worksheets
To make a flow chart worksheet, choose a template above! Once you're in the Storyboard Creator, click on each of the elements on the template to change them to fit your needs. When you're done, hit "Save & Exit"! You can print your worksheet right away, or simply keep it in your storyboard library until you are ready to use it.
Happy Creating!
View all
Worksheet Templates
!
Schedule a free Guided Session with us to become a Storyboard That pro!
*(This Will Start a 2-Week Free Trial - No Credit Card Needed)