https://www.storyboardthat.com/create/book-recommendation-worksheets
If you're assigning this to your students, copy the worksheet to your account and save. When creating an assignment, just select it as a template!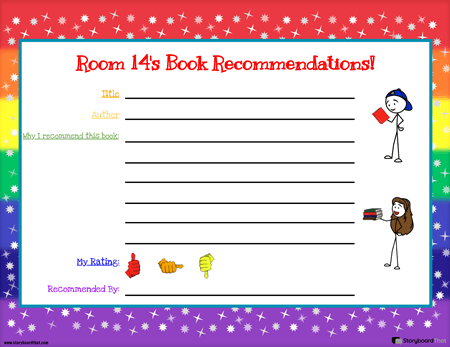 What are Book Recommendation Worksheets?
Having a book recommended by a friend is an excellent way to discover a new author or genre. Book recommendation worksheets are useful tools for your students to let others know what they like, and didn't like about a book.
Why are they important and how are they best used?
Oftentimes it is difficult for students to choose independent reading books. They may only like a certain genre or author and find it challenging to branch out and read new things. Our book recommendation worksheets make it easy for teachers to encourage students to share their favorite books with their classmates, and broaden the horizon of the young readers in the classroom.
Book Recommendation Worksheets
To make a book recommendation worksheet, choose from one of the templates above! Once you're in the Storyboard Creator, click on each of the elements on the template to change them to fit your needs. When you're done, hit "Save & Exit"! You can print your worksheet right away, or simply keep it in your storyboard library until you are ready to use it.
Happy Creating!