If you're assigning this to your students, copy the worksheet to your account and save. When creating an assignment, just select it as a template!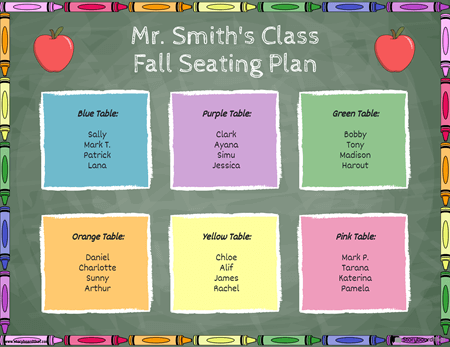 What are Seating Chart Worksheets?
Seating charts are helpful for teachers in classroom management, memorizing names and in giving students a sense of security and ownership of their space within the room. These colorful templates put a fun and creative spin on a basic classroom procedure!
Why are they important and how are they best used?
Teachers can copy the seating chart templates and enter their students names or rearranging where necessary. They can even change colors and fonts to suit their individual style! Teachers can then project their seating charts onto the board or post it on the wall so that students can view them as they arrive for class. Teachers could also keep their printed seating charts in a binder to help keep track of which seating arrangements work best. Students can get involved in the action by creating their own proposals of seating charts as a community building activity!
Seating Chart Worksheets
To make a seating chart, choose a template above! Once you're in the Storyboard Creator, click on each of the elements on the template to change them to fit your needs. When you're done, hit "Save & Exit"! You can print your worksheet right away, or simply keep it in your storyboard library until you are ready to use it.
Happy Creating!
*(This Will Start a 2-Week Free Trial - No Credit Card Needed)