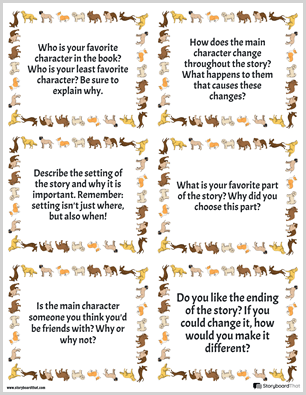 What are Discussion Cards Worksheets?
Discussion cards worksheets are versatile and easy to use. They can be used for any subject; simply add your questions to the cards, print, and even laminate for reuse!
Why are they important and how are they best used?
Discussion cards are often used as a way for students to answer questions and talk about what they've learned, especially during novel studies. They can also be used for social emotional learning, getting to know each other at the beginning of the year, and in many other ways for different subjects. Simply write your own questions on the already designed, eye-catching templates, and they are ready to use!>
Discussion Cards Worksheets
To make a Discussion Cards worksheet, choose a template below! Once you're in the Storyboard Creator, click on each of the elements on the template to change them to fit your needs. When you're done, hit "Save & Exit"! You can print off your worksheet from the next screen, or it will be saved to your account.
If you're assigning this to your students, copy the worksheet to your account and save. When creating an assignment, just select it as a template!
Happy Creating!
*(This will start a 2-Week Free Trial - No Credit Card Needed)