If you're assigning this to your students, copy the worksheet to your account and save. When creating an assignment, just select it as a template!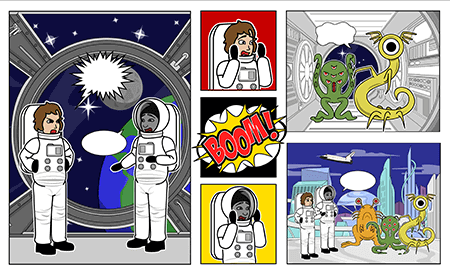 What is a Graphic Novel?
A graphic novel is a format, not a genre, of writing that uses art to tell a story. They can be fiction, nonfiction, realistic fiction, mystery, fantasy, and so much more! They can be any genre and are similar to comic books, except that they are usually stand alone stories with more intricate plots. Graphic novels use images and text to tell a story. Many people think that graphic novels and comic books are the same thing, but they are actually quite different and have their own unique qualities. Graphic novels are engaging and entertaining; they are the perfect way to teach students in a way that they don't even realize they're learning!
Examples of Popular Graphic Novels
Some graphic novels that students might be familiar with include:
What is a Graphic Novel Template?
A graphic novel template is an excellent starting point for students to start creating their stories. Our templates have all different kinds of panel patterns so that students do not have to stress over starting with a blank page and creating their own blank graphic.
Why Are Graphic Novels Important and How Are They Best Used?
Graphic novels combine both images and text to tell a cohesive story. Print and assemble multiple pages together to create a blank booklet for students to use, or have students choose different layouts for each page.
Benefits of Using Graphic Novel Templates
There are many benefits of using a Storyboard That graphic novel storyboard template, some of which include:
Many different patterns and layouts to choose from
Eliminates the need to create panels for each scene
Specific amount of panels already laid out for your students
Easy to customize or resize
Organization made simple!
What Can You Use Graphic Novel Templates For?
Our graphic novel templates can be used for more than just writing and illustrating a graphic novel! They can also be used for all kinds of creative classroom projects and activities, planning a story, summarizing a story, writing a comic strip, and so much more!
Using a Graphic Novel Template for Students
To make a graphic novel template for students, choose a template above! Once you're in the Storyboard Creator, click on each of the elements on the template to change them to fit your needs. When you're done, hit "Save & Exit"! You can print your worksheet for students to use right away, or simply keep it in your storyboard library until you are ready to use it.
How to Make a Graphic Novel Template
1

Choose One of the Premade Graphic Novel Templates

We have so many designs to choose from! Take a look at our awesome example to see what's possible!
2

Click on "Copy Template"

Once you do this, you will be directed to the storyboard creator.
3

Give Your Graphic Novel Template a Name!

Be sure to call it something related to the topic so that you can easily find it in the future.
4

Edit Your Template

This is where you can rearrange anything that you would like. When students use this template digitally, they can add images and text directly in the provided spaces!
5

Click "Save and Exit"

When you are finished with your graphic novel template, click this button in the lower right hand corner to exit your storyboard.
6

Next Steps

From here you can print, download as a PDF, attach it to an assignment and use it digitally, and more!
Class Activities With Graphic Novels
There are lots of ways you can integrate graphic novels into your classroom curriculum using a graphic novel design template. Here are just some of them:
Retell a story that students have read in an illustrated format.
Plan a story using sketches and text.
Have students create a book report in graphic novel format.
Practice sequencing with mixed up panels that the students have to put in orde.r
Provide text and have students illustrate the visuals.
Provide visuals and have students come up with their own text.
Students can write their own graphic novel!
Have students research a person and write their biography using a graphic novel template.
Tips for Making an Awesome Graphic Novel!
Using one of Storyboard That's templates will surely make writing and planning your graphic novel simple and fun. Check out our suggestions for creating a masterpiece below:
Choose a layout that fits your needs. Remember: you can customize one of our premade layouts to fit your needs, or leave it as is!
Print your layout if you choose to sketch by hand.
Map out your story using the pre-sized panels. Use pencil in case you are want to make changes!
Include text bubbles and other text.
Once you are finished with your draft, use a new template for your final version.
Be sure to use lots of color in your final copy!
Do you want your students to create a graphic novel digitally? Simply use our state of the art storyboard creator!
How to Create a Graphic Novel with Storyboard That
To learn more about creating a graphic novel with Storyboard That, check out our informative graphic novels article written by former classroom teachers.
Other Storyboard That Templates Your Students Will Love!
Check out our vast collection of worksheet templates and poster templates! Some of our most popular include:
Worksheets
Posters
Why Use Storyboard That?
Storyboard That is the perfect tool for novel lesson plans and activities because it's so easy to use and extremely versatile. With Storyboard That, you can create a wide variety of storyboards such as the story from the main character's perspective, or any other character's point of view.
You can also use Storyboard That to create a summary of the book, a movie poster, or analyze themes and events. Plus, our printable worksheets make it easy to take the fun offline.
Why is Storyboarding a Great Method of Teaching?
Storyboarding is an incredibly powerful tool for educators because it helps students process and understand the information in a deep, meaningful way. When students storyboard, they are actively engaged in the learning process and can make connections between the text and their own lives.
Storyboards also promote higher-level thinking by encouraging students to synthesize information and think critically about what they have read. Finally, storyboards are a great way to assess student understanding because they provide a visual representation of student learning.
(text below)
Frequently Asked Questions about Graphic Novel Templates
What are the benefits of using a graphic novel storyboard in the classroom?
There are so many benefits of using a graphic novel storyboard in the classroom! Here are just a few:
Helps students grasp themes and concepts
Keeps students interested and engaged
Improves visual skills and visual vocabulary
Accessible for students of all ages and abilities
How do I use a graphic novel template?
Using a Storyboard That graphic novel template is easy and fun. Simply choose the layout that you wish to use, and click on "copy template". You will be prompted to name your template, and customize it as you wish. Next, simply save and exit, and print! You can print multiple pages or just one!
How do I create a graphic novel template?
With so many templates to choose from, we think you will find something that fits your needs! However, to create your own, simply go to the storyboard creator, and click on the "layouts" button in the right hand menu. Next, choose "worksheet" or one of the poster sized options if you would like something bigger. Use Storyboard That's patterns, shapes, images, and text to create a template of your very own!