If you're assigning this to your students, copy the worksheet to your account and save. When creating an assignment, just select it as a template!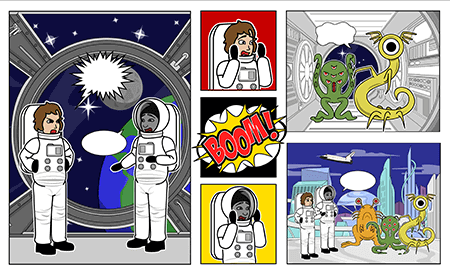 What is a Graphic Novel?
A graphic novel is a story told using primarily images in different panels instead of text alone.
Why are they important and how are they best used?
Graphic novels combine both images and text to tell a cohesive story. Print and assemble multiple pages together to create a blank booklet for students to use, or have students choose different layouts for each page.
Graphic Novel Layout
To make a graphic novel layout, choose a template above! Once you're in the Storyboard Creator, click on each of the elements on the template to change them to fit your needs. When you're done, hit "Save & Exit"! You can print your worksheet right away, or simply keep it in your storyboard library until you are ready to use it.
Happy Creating!
*(This Will Start a 2-Week Free Trial - No Credit Card Needed)