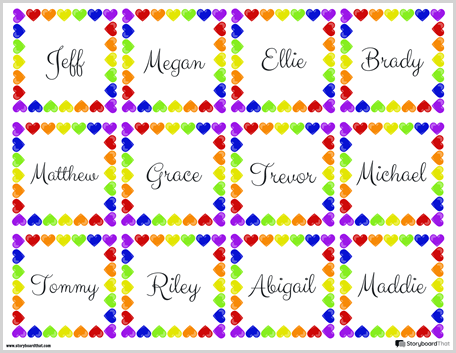 What are Labels Worksheets?
Label worksheets are perfect to easily make labels for all sorts of things in the classroom. Teachers can select the perfect theme for their classroom! All they have to do is customize, print, and use however they would like!
Why are they important and how are they best used?
With several themes to choose from, teachers can use our labels all year long. Use the labels for classroom bins, lockers, coat hangers, desks, books, and so much more! Simply enter your personalized text, print, and laminate!
Labels Worksheets
To make a Labels worksheet, choose a template below! Once you're in the Storyboard Creator, click on each of the elements on the template to change them to fit your needs. When you're done, hit "Save & Exit"! You can print off your worksheet from the next screen, or it will be saved to your account.
If you're assigning this to your students, copy the worksheet to your account and save. When creating an assignment, just select it as a template!
Happy Creating!
*(This will start a 2-Week Free Trial - No Credit Card Needed)