https://www.storyboardthat.com/create/student-teacher-conferences
If you're assigning this to your students, copy the worksheet to your account and save. When creating an assignment, just select it as a template!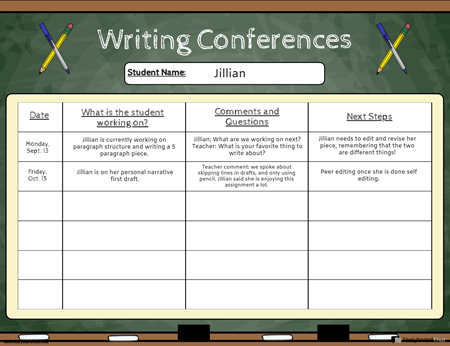 What are Student/Teacher Conference Worksheets?
Conference worksheets are where teachers keep track of their notes during conferences with students about how they're doing in class. They are also helpful for reference later, with parent conferences.
Why are they important and how are they best used?
Teachers have many conversations with students regarding their writing assignments, progress in reading, or other subjects. Our student/teacher conference worksheets will come in handy for teachers to keep track of these meetings, as well as be a record of how far students have come. They can be printed out and kept in a binder so that both teacher and student can see the changes throughout the year.
Student/Teacher Conference Worksheets
To make a Student/Teacher Conference worksheet, choose a template above! Once you're in the Storyboard Creator, click on each of the elements on the template to change them to fit your needs. When you're done, hit "Save & Exit"! You can print your worksheet right away, or simply keep it in your storyboard library until you are ready to use it.
Happy Creating!
*(This Will Start a 2-Week Free Trial - No Credit Card Needed)