If you're assigning this to your students, copy the worksheet to your account and save. When creating an assignment, just select it as a template!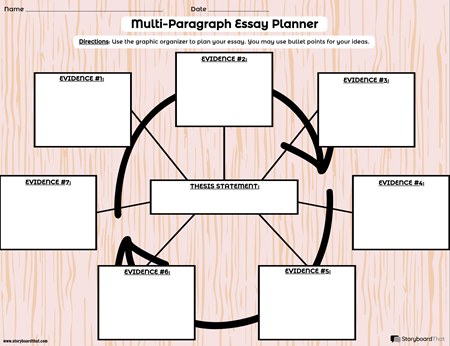 What is a Multi-Paragraph Essay Worksheet?
The multi-paragraph essay worksheet is for planning out a long essay. It asks students to craft an introductory and concluding paragraph and to create several body paragraphs with relevant information to support the thesis statement. This type of essay is for more advanced writers, or more complex writing assignments than the 5-paragraph essay.
Why are they important and how are they best used?
The multi-paragraph essay template can be used for all kinds of academic writing, from expository, to persuasive, to analytical. Some teachers may choose to use the multi-paragraph essay template to help students write more formal papers. The multi-paragraph essay is not limited to three body paragraphs, or three main points; instead, it encourages students to use multiple examples and insights to prove their thesis statement.
Multi-Paragraph Essay Templates
To make a multi-paragraph essay worksheet, choose a template above! Once you're in the Storyboard Creator, click on each of the elements on the template to change them to fit your needs. When you're done, hit "Save & Exit"! You can print off your worksheet from the next screen, or it will be saved to your account.
Happy Creating!
*(This Will Start a 2-Week Free Trial - No Credit Card Needed)