If you're assigning this to your students, copy the worksheet to your account and save. When creating an assignment, just select it as a template!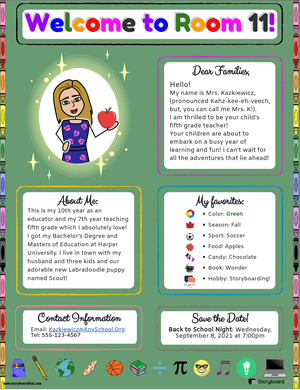 What is a School Newsletter?
A school newsletter is a valuable communication tool that keeps students, parents, and the school community informed about important updates, and achievements throughout the school year. It serves as a central source of information, providing timely details about upcoming events, school activities and projects, and noteworthy accomplishments. By distributing a school newsletter on a regular basis, schools can ensure that students and parents are well-informed and engaged in the school community.
Why Are They Important and How Are They Best Used?
Teachers can utilize these customizable handouts by filling in information in the text boxes as well as adding additional imagery, a character that looks like themselves, changing the color schemes, or uploading pictures of their own to include! They help teachers to create beautiful newsletters that are eye-catching as well as informative. The colorful and streamlined layouts are sure to cut through the email clutter that parents so often receive to deliver important information quickly and clearly.
Efficient Communication with School Newsletter Templates
When it comes to effective communication in the education sector, school newsletters play a crucial role. They serve as a valuable tool for giving students, parents, and teachers access to important updates, events, and achievements throughout the school year. With the use of school newsletter templates, the process of creating and distributing newsletters becomes much more streamlined and efficient.
Teachers can utilize the power of school newsletter templates to share classroom updates, highlight student achievements, and provide valuable educational resources. By using teacher newsletter examples or classroom newsletter templates, educators can save time and effort in creating engaging newsletters that capture the attention of students and parents.
School newsletter templates offer a wide range of options to cater to different needs. Whether you're looking for a back-to-school newsletter template or a general newsletter template for regular updates, you'll find a variety of designs and styles to choose from. Best of all, many of these printouts are available for free, making them accessible to schools with budget constraints.
By utilizing school newsletter templates, educational institutions can enhance their communication efforts, strengthen the school-parent partnership, and foster a sense of community. They provide an efficient and effective way to share important information and keep everyone well-informed.
Unlock the potential of efficient communication with our collection of school newsletter templates. Simplify the process of creating engaging newsletters and enjoy the benefits of streamlined communication within your school community.
Using Our School Newsletter Creator
Our school newsletter creator empowers you to customize and personalize your school newsletter with ease. Whether you're a teacher, administrator, or parent volunteer, our user-friendly tool offers a seamless editing experience to make your newsletters stand out. Here are some tips to make the most of our school newsletter creator:
Choose the Perfect Template: Select a school newsletter template that suits your needs and captures the essence of your school's brand and style. We offer a wide range of professionally designed handouts to choose from, ensuring there's something for every occasion.
Customize with Ease: Our intuitive editing interface allows you to easily customize your newsletter template. You can add your school logo, change colors to match your branding, and adjust font styles to enhance readability. Our drag-and-drop functionality makes it simple to rearrange sections and elements to create the perfect layout.
Insert Images: Spice up your newsletter template by adding relevant and eye-catching images. Whether it's showcasing student achievements, highlighting school events, or featuring classroom activities, visual content can make your newsletter more engaging and memorable. Our school newsletter generator allows you to seamlessly insert images and resize them to fit your design.
Add Text and Content: Personalize your newsletter with informative and engaging content. Use our text editor to write updates, announcements, stories, and articles. You can also include important dates, upcoming events, and reminders to keep your readers well-informed.
Preview and Finalize: Before sending out your newsletter, take advantage of our preview feature to ensure everything looks perfect. Make any necessary adjustments and proofread your content for accuracy and clarity. Once you're satisfied, you can save and download your completed newsletter in various formats for easy distribution.
Create stunning school newsletters with our school newsletter creator and leave a lasting impression on your school community. Start customizing your newsletter template today and enjoy the benefits of effective communication and engagement within your school!
Even More Resources!
Looking for more ways to enhance your classroom communication? Our school newsletter examples are just the beginning. We offer a wide range of resources to support your teaching journey. From storyboard templates to newspaper project templates, and blank storyboard templates to printable classroom decorations, our collection has everything you need to engage your students and create a vibrant learning environment. Let your creativity shine and discover new ways to connect with your students and parents through our diverse selection of educational resources.
How to Make a Newsletter Worksheet
1
Choose One of the Premade Templates
We have lots of templates to choose from. Take a look at our example for inspiration!
2
Click on "Copy Template"
Once you do this, you will be directed to the storyboard creator.
3
Give Your Worksheet a Name!
Be sure to call it something related to the topic so that you can easily find it in the future.
4
Edit Your Worksheet
This is where you will include directions, specific images, and make any aesthetic changes that you would like. The options are endless!
5
Click "Save and Exit"
When you are finished, click this button in the lower right hand corner to exit your storyboard.
6
Next Steps
From here you can print, download as a PDF, attach it to an assignment and use it digitally, and more!
Happy Creating!
Frequently Asked Questions About Newsletter Templates
What is a school newsletter generator?
A school newsletter generator is an online tool that allows educators to create customized newsletters for their school or classroom. It provides pre-designed handouts and a user-friendly interface for easily designing and formatting newsletters.
Can I find free newsletter templates for school?
Yes! Our website offers a variety of free newsletter printouts specifically designed for schools. They can be easily customized to fit your school's branding and communication needs.
How can school newsletter templates benefit me?
They provide a convenient and professional way to communicate important information to students, parents, and the school community. They help you save time by providing a pre-designed layout that you can easily fill in with relevant content. Additionally, using consistent newsletter templates creates a cohesive and recognizable brand for your school.
Can I personalize the newsletter templates?
Absolutely! Our templates are fully customizable. You can personalize them by adding your school's logo, changing colors, inserting images, and modifying the text to suit your specific communication needs.