If you're assigning this to your students, copy the worksheet to your account and save. When creating an assignment, just select it as a template!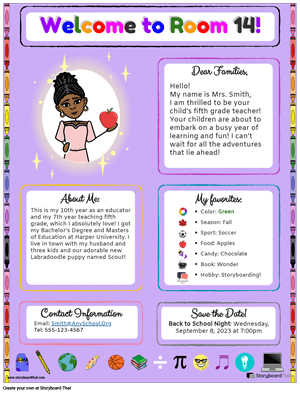 What are Meet the Teacher Worksheets?
Students and their caregivers love to learn all about their new teachers! School to home communication is imperative to student success. Caregivers and teachers are partners in their students' learning. Teachers often send home colorful "Meet the Teacher" notices at the start of the year or at back-to-school night as a fun way to introduce themselves and embark on a positive relationship with students and their families.
Why Are They Important and How Are They Best Used?
Teachers can utilize these customizable templates by filling in information in the text boxes as well as adding additional imagery, a character that looks like themselves, changing the color schemes, or uploading pictures of their own to include! These Meet the Teacher templates help teachers to create beautiful notices that are eye-catching as well as informative.
Meet the Teacher Worksheets
To make a Meet the Teacher worksheet, choose a template above! Once you're in the Storyboard Creator, click on each of the elements on the template to change them to fit your needs. When you're done, hit "Save & Exit"! You can print your worksheet right away, or simply keep it in your storyboard library until you are ready to use it.
Happy Creating!
*(This Will Start a 2-Week Free Trial - No Credit Card Needed)
https://www.storyboardthat.com/create/meet-the-teacher-worksheets
© 2023 - Clever Prototypes, LLC - All rights reserved.
StoryboardThat is a trademark of Clever Prototypes, LLC, and Registered in U.S. Patent and Trademark Office