If you're assigning this to your students, copy the worksheet to your account and save. When creating an assignment, just select it as a template!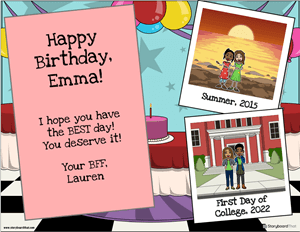 Exploring the Power of eCard Templates: Effortless Design and Personalization
eCard templates have revolutionized the way we send greetings and well wishes in the digital age. Designed to simplify the process of creating and sending electronic cards, eCard templates provide a convenient starting point for crafting personalized messages for various occasions. Whether you're celebrating a birthday, special holidays, sending an invitation for an event, or expressing gratitude, eCard templates offer a wide array of pre-designed layouts, styles, and fonts that enable you to browse and effortlessly create visually appealing and heartfelt personalized eCards. When creating your eCard, take advantage of the huge selection of templates and add photos that bring your personalized message to life.
Create an eCard: Unleash Your Creativity with Customizable eCard Templates
An eCard template acts as a creative springboard, offering a foundation that can be personalized to create truly unique and heartfelt digital greetings by making your own ecards. These templates serve as a starting point, providing a professionally designed layout that you can tailor to your specific needs. Whether you're seeking a festive look for a holiday eCard or a sophisticated design for a professional occasion, eCard templates present a versatile array of options. Once you've selected an eCard template, you can personalize it by adding your own photos or icons, customizing the text message, and even incorporating your preferred color scheme. This level of customization ensures that your eCard becomes a reflection of your personality and the sentiment you wish to convey. With eCard templates, you have the freedom to make your own ecard that is personalized and visually captivating, leaving a lasting impression on your recipient.
The Appeal of Free eCard Creation: Exploring the Convenience of eCard Makers
Create your own beautiful eCards for free with eCard makers. These platforms offer a range of free templates, making it easy to customize your eCard with photos and text messages. In just a few clicks, you can design a personalized digital masterpiece that expresses your sentiments and brings joy to others. eCard makers streamline the process, providing a wide selection of themes and styles to choose from. Simply choose a template, add your personal touch with photos and text, and enjoy the effortless and enjoyable experience of creating the perfect cards.
Even More Storyboard That Resources and Free Printables
How to Make an eCard
1

Choose One of the Premade Templates

We have lots of templates to choose from. Take a look at our example for style inspiration!
2

Click on "Copy Template"

Once you do this, you will be directed to the storyboard creator.
3

Give Your Storyboard a Name!

Be sure to call it something related to the topic so that you can easily find it in the future.
4

Edit Your Card

This is where you will personalize your work with specific images and text, and make any aesthetic changes that you would like. The options are endless!
5

Click "Save and Exit"

When you are finished, click this button in the lower right hand corner to exit your storyboard.
6

Next Steps

From here you can print, download as a PDF, or send to your desired recipient through email or social media platforms.

Happy Creating!
Frequently Asked Questions About eCards
How can I add a personal touch to my eCard design?
By utilizing an eCard creator or eCard maker, you can easily personalize your creation. Choose a template that resonates with you, add your own photos or images, and customize the text message and even the ecard size to reflect your unique sentiments. This personal touch will make your eCard feel heartfelt and special.
When compared to traditional gift cards, what makes eCards a possibly better option?
They are a better option because they are convenient, cost-effective, eco-friendly, free ecard templates online offer a wide variety of designs and customization options, provide instant delivery, include interactive elements, and can be sent globally.
What special considerations are needed for eCards as opposed to traditional cards?
Special considerations for creating and sending eCards online include ensuring recipients' contact information, device compatibility, stable internet connection, privacy and security, utilizing customization options, and following up for delivery confirmation.