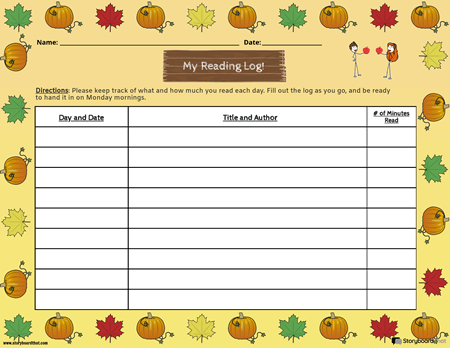 What are Reading Log Worksheets?
Reading log worksheets are where students can keep track of their reading on a daily and weekly basis. They can include book students are reading for class or encourage students to read at home for pleasure.
Why are they important and how are they best used?
Reading at home is an important part of developing and strengthening reading skills. Reading logs are the perfect way for students to keep track of what they have read. For daily use, they are a useful tool to keep track of how much students have read and for how long. Reading logs hold students accountable and make it easy for teachers to stay on top of their students' at home reading.
Reading Log Worksheets
To make a reading log worksheet, choose a template below! Once you're in the Storyboard Creator, click on each of the elements on the template to change them to fit your needs. When you're done, hit "Save & Exit"! You can print off your worksheet from the next screen, or it will be saved to your account.
Happy Creating!
*(This will start a 2-Week Free Trial - No Credit Card Needed)