If you're assigning this to your students, copy the worksheet to your account and save. When creating an assignment, just select it as a template!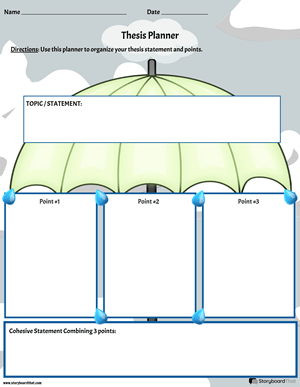 What is a Thesis Statement?
In academic writing, a thesis statement is the central idea, claim, or argument that guides the entire paper. Knowing how to write a one is essential for creating strong and coherent papers that convey your message effectively. However, crafting an effective statement is not easy and can be a daunting task for many writers, regardless of the subject. Our templates provide a structured framework for students to create well-crafted thesis statements that meet the requirements of academic writing.
What is a Thesis Statement Worksheet?
Our worksheets help plan for any essay or paper. Students can use a specific (enumerative) thesis statement or an umbrella thesis statement to plan out the primary idea of their essay and practice writing effective ideas. Academic writing often requires a strong statement that sets the tone and purpose of the work.
Why Are These Graphic Organizers Important and How Are They Best Used?
Thesis statements are the bedrock for any paper, debate, or other writing assignment. It is used to guide the writing and keep ideas focused on proving that statement true with relevant evidence. Students often have a difficult time getting started, so these templates can help guide them as they craft one to guide their writing. By using a template, learners can structure their thoughts and ideas to create something that is clear, concise, and effective. Outlines provide a framework for writers to understand the different types, generate ideas, and effectively communicate their message. Additionally, graphic organizers offer a visual way to organize ideas, making the process of writing more accessible for learners.
There are different types of worksheets that are designed for different purposes and levels of writing proficiency. Some worksheets may be geared towards helping students develop a basic understanding of how to get started, while others may be more advanced and focused on refining and strengthening existing pieces of writing. Having different templates gives students a choice on which is most useful for their task.
Other Useful Tips for Creating Successful/Useful Thesis Statements Organizer Worksheets
Using worksheet templates can be a powerful tool for helping kids craft strong and effective writing. By providing a structured framework for organizing ideas, learners can better understand the key elements and how to write one effectively. A graphic organizer example can help learners understand the different categories, such as argumentative, analytical, or expository, and how to write a something that fits within these categories.
Graphic organizer examples offer visual representations for parts such as the topic, argument, and main points. This approach can be particularly useful for visual learners who may struggle with written instructions. Templates also allow for differentiation of instruction for learners with different skill levels. For example, some templates may be more structured for learners who are just beginning to learn this type of writing, while others may allow for more flexibility and creativity for more advanced learners.
Using a template can also help learners to better understand the purpose of what they are writing. By breaking down the different components, learners have the space to see how their thesis statement relates to the broader context of their paper and how it guides the reader towards their argument or main point. Overall, worksheet templates can be an effective way to support learners with different learning styles and skill levels and help them to master the art of writing a strong and effective thesis statement.
How to Make A Good Thesis Statement
While a worksheet can be a helpful tool for developing your writing skills, it is not a substitute for careful reading, research, and critical thinking. When using a planning worksheet, it is important to carefully read and follow the instructions and prompts provided. Pay attention to the specific requirements of the assignment, such as the length and format of the thesis statement, as well as the audience and purpose of the writing. Be prepared to revise and refine as needed, based on feedback from your instructor or other readers.
Planning templates are effective by guiding writers through a series of prompts or questions that help them develop a clear and focused argument for their writing assignment. Typically, the worksheet will begin by asking the student to identify the topic of their paper and narrow it down to a specific focus.
The prompts may then ask the student to consider different aspects of their argument, such as the key points they want to make, the evidence they will use to support their claims, and the counterarguments or objections they may need to address. Some worksheets may also provide examples and offer tips for crafting a strong and persuasive argument.
As the student works through the prompts, they will begin to develop a more refined and focused statement that effectively communicates the main argument of their paper. They may also receive feedback or suggestions for improvement from their instructor or peers, which they can use to revise and refine further.
Graphic Organizer Worksheets
Tips to consider when making your worksheet:
Define the purpose and goals of the worksheet. Determine what specific skills or concepts you want your students to develop and what types of writing assignments they will be working on.
Choose appropriate prompts or questions. Develop a series of prompts or questions that guide learners through the process of developing a clear and focused thesis statement. The prompts should be clear, concise, and relevant to the specific writing assignment.
Provide examples and feedback. Offer examples and provide feedback and suggestions for improvement to help students refine their writing skills.
Consider the needs of different learners. Be sure to consider the needs of different types of learners, such as visual, auditory, and kinesthetic learners, and include a variety of activities and strategies to engage all learners.
Test and revise the worksheet. Try out the worksheet with a small group and gather feedback to identify any areas that may need to be revised or clarified.
Provide instruction and support. Introduce the worksheet to your class and provide clear instructions and support as they work through the prompts and activities.
Monitor progress and provide feedback. Monitor progress and provide ongoing feedback and support to help develop writing skills.
Free Thesis Statement Worksheets With Storyboard That
Storyboard That is not just a classroom label maker, it's also a versatile tool that can be used as a thesis statement generator free or even to create various educational resources. With the thesis statement maker, you can easily create templates that guide students in crafting strong and clear thesis statements. Simply choose a template and click on the elements to customize them according to your needs. Once done, you can save the worksheet and either print it right away or keep it in your storyboard library for later use. Whether you need to create free thesis statement worksheets, a specific type of thesis statement, or a general guide to writing thesis statements, Storyboard That's thesis statement creator can help simplify the process and provide a clear and structured framework for kids to follow.
How to Make a Thesis Statement Worksheet
1

Choose One of the Premade Templates

We have lots of templates to choose from. Take a look at our example for inspiration!
2

Click on "Copy Template"

Once you do this, you will be directed to the storyboard creator.
3

Give Your Worksheet a Name!

Be sure to call it something related to the topic so that you can easily find it in the future.
4

Edit Your Worksheet

This is where you will include directions, specific questions and images, and make any aesthetic changes that you would like. The options are endless!
5

Click "Save and Exit"

When you are finished with your worksheet, click this button in the lower right hand corner to exit your storyboard.
6

Next Steps

From here you can print, download as a PDF, attach it to an assignment and use it digitally, and more!
Related Storyboard That Resources and Printables
Happy Creating!
Frequently Asked Questions about Thesis Statements
Do I need a worksheet to figure out how to write a thesis statement?
While you don't necessarily need a worksheet to write a thesis statement, a worksheet can help you organize your thoughts and ensure that your thesis statement is strong and effective. Worksheets can provide prompts, examples, and feedback to guide you through the process of how to create a thesis statement that works. They can also help students to work through various examples of both strong and weak thesis statements, and help develop their ability to recognize the characteristics of effective thesis statements, such as clarity, specificity, and a clear argumentative focus. Additionally, the exercises facilitated by the worksheets can help students understand how to develop a thesis statement that effectively guides their writing and provides a strong foundation for their argument. Through the use of example exercises worksheets, students can improve their critical thinking skills and gain confidence in their ability to craft a strong thesis statement.
What is an umbrella thesis statement?
An umbrella thesis statement is a broad statement that encompasses the main point of a paper without providing specific details or evidence. It is called an "umbrella" because it covers a large topic or issue that can be broken down into smaller subtopics for further exploration. An example of an umbrella thesis statement is "The impact of technology on society." Umbrella thesis examples can be an effective tool for teaching students about the importance of clarity and specificity in thesis statements. By using umbrella thesis examples, students can see how a broad topic can be narrowed down into a specific statement that provides a clear direction for the paper. This can help students understand how to craft a thesis statement that is both focused and specific, while still allowing for flexibility in their argument.
How do the worksheets help me to figure out how to make a thesis statement?
Thesis statement exercises worksheets are meant to help students to organize their thoughts and ideas before they begin to write a thesis statement. Worksheets help by providing clear and concise prompts, examples, and support, and helps students to understand the key components of a strong thesis statement and to develop their own unique ideas and arguments. Through the use of a worksheet, students are able to refine their ideas and ensure that their thesis statement accurately reflects the content of their essay or research paper. Ultimately, the worksheet serves as a valuable guide that helps students to write a clear and effective thesis statement.