https://www.storyboardthat.com/create/thesis-statement-worksheets
If you're assigning this to your students, copy the worksheet to your account and save. When creating an assignment, just select it as a template!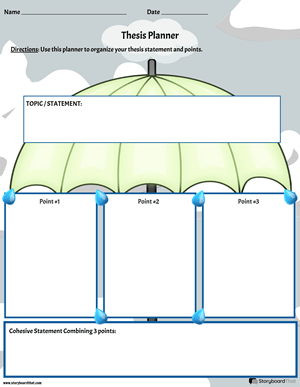 What is a Thesis Statement Worksheet?
Thesis statement worksheets help students plan their thesis statement for any essay or paper. Students can use a specific (enumerative) thesis statement or an umbrella thesis statement to plan out the primary idea of their essay.
Why are they important and how are they best used?
Thesis statements are the bedrock for any paper, debate, or other writing assignment. The thesis statement is used to guide the writing and keep ideas focused on proving that statement true with relevant evidence. Students often have a difficult time getting started with thesis statements, so these templates can help guide them as they craft one to guide their writing.
Thesis Statement Worksheet
To make a thesis statement worksheet, choose a template above! Once you're in the Storyboard Creator, click on each of the elements on the template to change them to fit your needs. When you're done, hit "Save & Exit"! You can print your worksheet right away, or simply keep it in your storyboard library until you are ready to use it.
Happy Creating!
View all
Worksheet Templates
!
Schedule a free Guided Session with us to become a Storyboard That pro!
*(This Will Start a 2-Week Free Trial - No Credit Card Needed)