If you're assigning this to your students, copy the worksheet to your account and save. When creating an assignment, just select it as a template!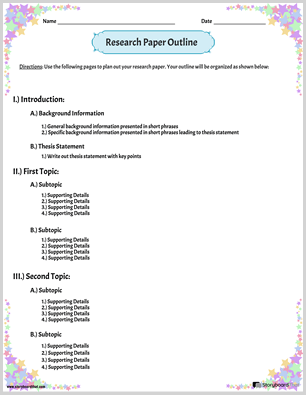 What is an Outline Worksheet?
Many research papers and other kinds of expository writing require an outline in order to highlight the key ideas that the student will be covering in their paper. The following templates are examples of different kinds of outlines that can be used for research papers and other academic writing.
Why are they important and how are they best used?
Although many teachers have moved away from requiring students to produce outlines, they are still an expected piece of most research and term papers, especially in high school and college. The outline gives generalized, abbreviated details of what the information will be in the paper. An outline is also an important tool for teachers to use to make sure a student is on track before they actually begin writing their paper.
Outline Template
To make an outline worksheet, choose a template above! Once you're in the Storyboard Creator, click on each of the elements on the template to change them to fit your needs. When you're done, hit "Save & Exit"! You can print your worksheet right away, or simply keep it in your storyboard library until you are ready to use it.
Happy Creating!
View all
Worksheet Templates
!
Schedule a free Guided Session with us to become a Storyboard That pro!
*(This Will Start a 2-Week Free Trial - No Credit Card Needed)