If you're assigning this to your students, copy the worksheet to your account and save. When creating an assignment, just select it as a template!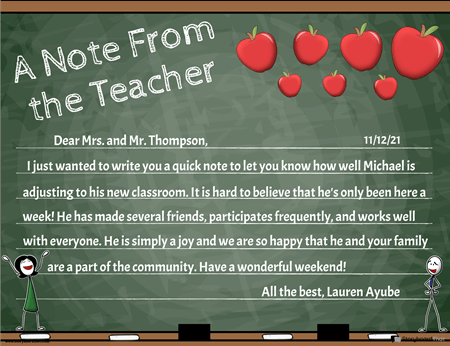 What are Parent Teacher Notes Worksheets?
Parent teacher notes are an excellent way to keep the communication between parents and teachers open and consistent.
Why are they important and how are they best used?
The communication between parents and teachers is crucial to the success of students. Whether the student is struggling or thriving, parents should always know what's taking place in the classroom. Of course, email is a great way to communicate with parents, but a little note in a child's backpack is more personal, and more likely to catch a parent's attention. Whether you are writing a long note or a short note, we make it more fun with our colorful and unique templates!
Parent Teacher Notes Worksheets
To make a parent teacher notes worksheet, choose a template above! Once you're in the Storyboard Creator, click on each of the elements on the template to change them to fit your needs. When you're done, hit "Save & Exit"! You can print your worksheet right away, or simply keep it in your storyboard library until you are ready to use it.
Happy Creating!
*(This Will Start a 2-Week Free Trial - No Credit Card Needed)