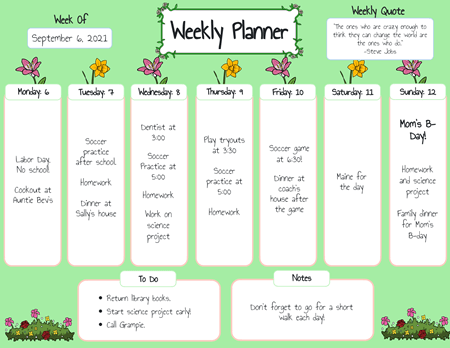 What are Weekly Planner Worksheets?
Weekly planners are excellent tools to help students and teachers manage their time and schedule on a weekly basis. A worksheet makes it easy to adjust schedules and customize for each week so there's never any guesswork for due dates or activities!
Why are they important and how are they best used?
Weekly planners allow students to keep all of their assignments, projects, meetings, class times, and activities all in one place. When used habitually, weekly planners help students stay on track and remember their schedules as they change each day and throughout the week. They are also useful to teachers, as they are able to keep track of lessons, specials, and meetings all in one document.
Weekly Planner Worksheets
To make a Weekly Planner worksheet, choose a template below! Once you're in the Storyboard Creator, click on each of the elements on the template to change them to fit your needs. When you're done, hit "Save & Exit"! You can print off your worksheet from the next screen, or it will be saved to your account.
If you're assigning this to your students, copy the worksheet to your account and save. When creating an assignment, just select it as a template!
Happy Creating!
*(This will start a 2-Week Free Trial - No Credit Card Needed)