If you're assigning this to your students, copy the poster to your account and save. When creating an assignment, just select it as a template!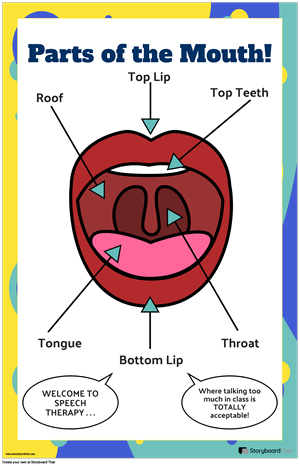 Why Speech Therapy Posters?
Speech Language Pathologists employ a variety of tools and visuals to help their students. These whimsical posters are designed to be used in a speech therapy classroom to highlight classroom rules, new strategies, parts of the mouth and to make students feel welcome! These posters can be created by the teacher and displayed as informative and inviting decorations around the Speech Therapy room. They can also be created by students as a way to dive deeper into the anatomy of speech and to collaborate on important rules and strategies.
Make Speech Therapy Posters
To make a Speech Therapy poster, choose a template below! Once you're in the Storyboard Creator, click on any of the elements on the template to change them to fit your needs. Add new images and words to make your poster pop! Don't forget to change the colors or add more! Make the poster your own. When you're done, just hit "Save & Exit"! You can print off your poster from the next screen, or it will be saved to your account.
Happy Creating!
View all
Poster Templates
!
Schedule a free Guided Session with us to become a Storyboard That pro!
*(This Will Start a 2-Week Free Trial - No Credit Card Needed)