If you're assigning this to your students, copy the poster to your account and save. When creating an assignment, just select it as a template!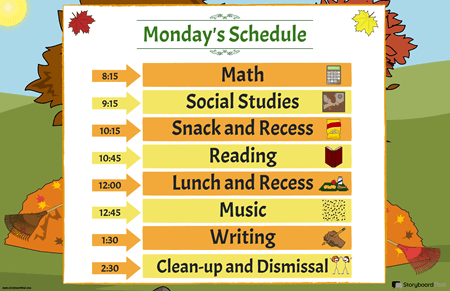 Why Class Schedule Posters?
Establishing a predictable schedule and routine creates comfort and stability within the classroom community. Clearly discussing and displaying the schedule each day provides a sense of structure that students need to set the groundwork for a successful day. These colorful posters are completely customizable and can be used across all grade levels. They can be printed, laminated, and hung in a classroom, or it can be posted digitally.
Make Class Schedule Posters
To make a class schedule poster, choose a template above! Once you're in the Storyboard Creator, click on any of the elements on the template to change them to fit your needs. Add new images and words to make your poster pop! Don't forget to change the colors or add more! Make the poster your own. When you're done, just hit "Save & Exit"! You can print off your poster from the next screen, or it will be saved to your account.
Happy Creating!
*(This Will Start a 2-Week Free Trial - No Credit Card Needed)