If you're assigning this to your students, copy the poster to your account and save. When creating an assignment, just select it as a template!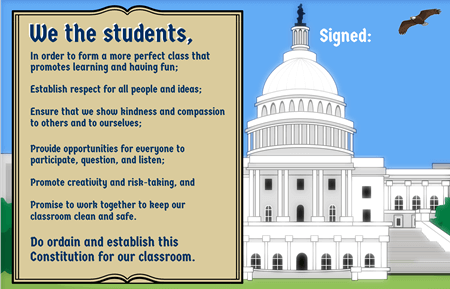 Why Class Constitution Posters?
Establishing clear and consistent routines, procedures, and expectations for student work and behavior is the foundation for creating a class environment that empowers students and helps them to do their best learning! By creating the constitution together, students will gain a sense of ownership and pride in their learning and in their classroom community. Clearly discussing and displaying the Class Constitution helps students to understand what is expected and provides a sense of security and structure. These colorful posters are completely customizable and can be printed, laminated and hung in a classroom or posted digitally.
Make Class Constitution Posters
To make a Class Constitution poster, choose a template above! Once you're in the Storyboard Creator, click on any of the elements on the template to change them to fit your needs. Add new images and words to make your poster pop! Don't forget to change the colors or add more! Make the poster your own. When you're done, just hit "Save & Exit"! You can print off your poster from the next screen, or it will be saved to your account.
Happy Creating!
*(This Will Start a 2-Week Free Trial - No Credit Card Needed)