If you're assigning this to your students, copy the poster to your account and save. When creating an assignment, just select it as a template!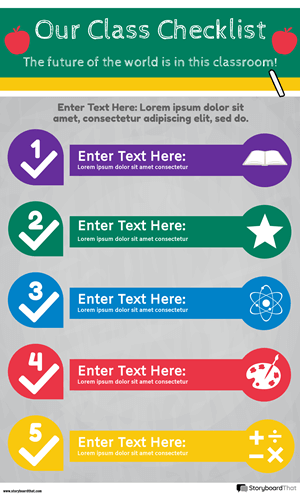 List Infographics
List infographic templates make it easy to create visually appealing designs that will help students and teachers alike remember all of the important things they have to do, say and bring throughout their day! Creating lists is a helpful way to stay organized and for students to take ownership of their own learning.
Ideas for List Infographics
Outline the supplies students must bring to class each day.
Activities students and teachers will do throughout the day.
List of all the steps in a long term project.
Take a class poll and list out the top five picks of any particular topic.
Instructions
Select from the templates above
Click "Copy This Storyboard" to edit and copy to your account
Edit colors, text, and art as desired or assign it to your students as is
Print or download your finished project
Happy Creating!
*(This Will Start a 2-Week Free Trial - No Credit Card Needed)