Are you in need of a worksheet or a poster, but don't have the time to create one yourself? You have come to the right place! Storyboard That has hundreds of pre-made worksheets/handouts for you to choose from, edit, and make all your own!
What is a Template?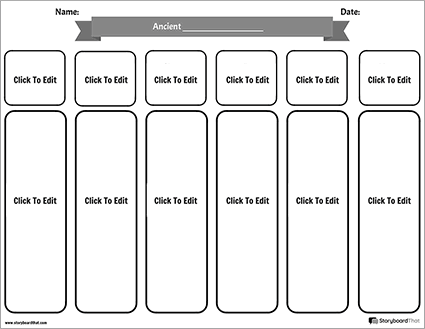 A template is a basic starting off point with pre-made text boxes, headings, borders, and other details you can customize to fit your own vision. Templates can be used across the board in classrooms of all ages and subject areas. They are huge timesavers for teachers, as most of the work has already been done, and they can be copied, tweaked, and reused over and over again.
Types of Templates
Storyboard That has worksheet templates, poster templates, and basic storyboard layout templates; whatever type of teacher template you may need.
Our teacher worksheet template library has everything from math worksheets, tests and quizzes, and flashcards to daily planners, calendars, and plot diagrams. We have templates that can be used for conferences, rubrics, check lists, goal setting, and even lesson planning.
As for our teacher poster template options, you are sure to find what you are looking for. Storyboard That has a huge variety of poster templates including maps, social media posters, newspaper layouts, brochures, and even games and game pieces! For your classroom, you can find behavior charts, birthday certificates, and decorations that your students will love! We have the type of teacher handout template you are looking for.
Featured Templates
How Do I Use a Storyboard That Template?
To use our pre-made templates for teachers, simply click on the "Copy Template" button directly below the template you wish to use. You will be brought to the Storyboard Creator where you will give your creation a name, and then customize it however you wish!
Do you like the layout, but not the background?
No problem! Delete the background or swap it out with one of our many choices available in "Patterns" category.

Do you want to change the border?
Go right ahead; we have lots of borders located in the "Worksheets" category. You can change the font, the layout, or nothing at all!

Too many images? Not ENOUGH images?
This is now your creation! Add, delete, or even upload your own images!
We have done the work so that you don't have to; all you have to do is customize the template to fit your needs, print, and you are done.
What kind of templates would you like to see? Would you like to see more free teacher templates? Email us at feedback@storyboardthat.com!