https://www.storyboardthat.com/lesson-plans/common-sense-by-thomas-paine/5-ws
Activity Overview
A great way to introduce students to significant events and documents is to have them answer the 5 Ws (Who Where What When Why). Together, the answers provide an analysis that can be used as a base for further exploration.
In this activity, students will use a spider map to analyze the Common Sense pamphlet and it's effects on the events leading up to the American Revolution. The analysis be done prior to reading Common Sense, as it will allow students to understand the historical significance of this book before they analyze Paine's specific arguments. It also introduces students to some of the key figures and groups that helped drive the Revolution, and situates the document within historical context.
Student Instructions
Create a 5W analysis of the Common Sense pamphlet: Who, What, When, Where, and Why.
Click "Start Assignment".
In the title box for each cell, type Who, What, When, Where and Why.
In the descriptions, answer the question.
Create an image for each cell with appropriate scenes, characters, and items.
Save and submit your storyboard.
Lesson Plan Reference
Grade Level 6-12
Difficulty Level 2 (Reinforcing / Developing)
Type of Assignment Individual or Group
Type of Activity: 5 Ws of Social Studies and History
Common Core Standards
[ELA-Literacy/RI/9-10/6] Determine an author's point of view or purpose in a text and analyze how an author uses rhetoric to advance that point of view or purpose.
[ELA-Literacy/RI/9-10/9] Analyze seminal U.S. documents of historical and literary significance (e.g., Washington's Farewell Address, the Gettysburg Address, Roosevelt's Four Freedoms speech, King's "Letter from Birmingham Jail"), including how they address related themes and concepts.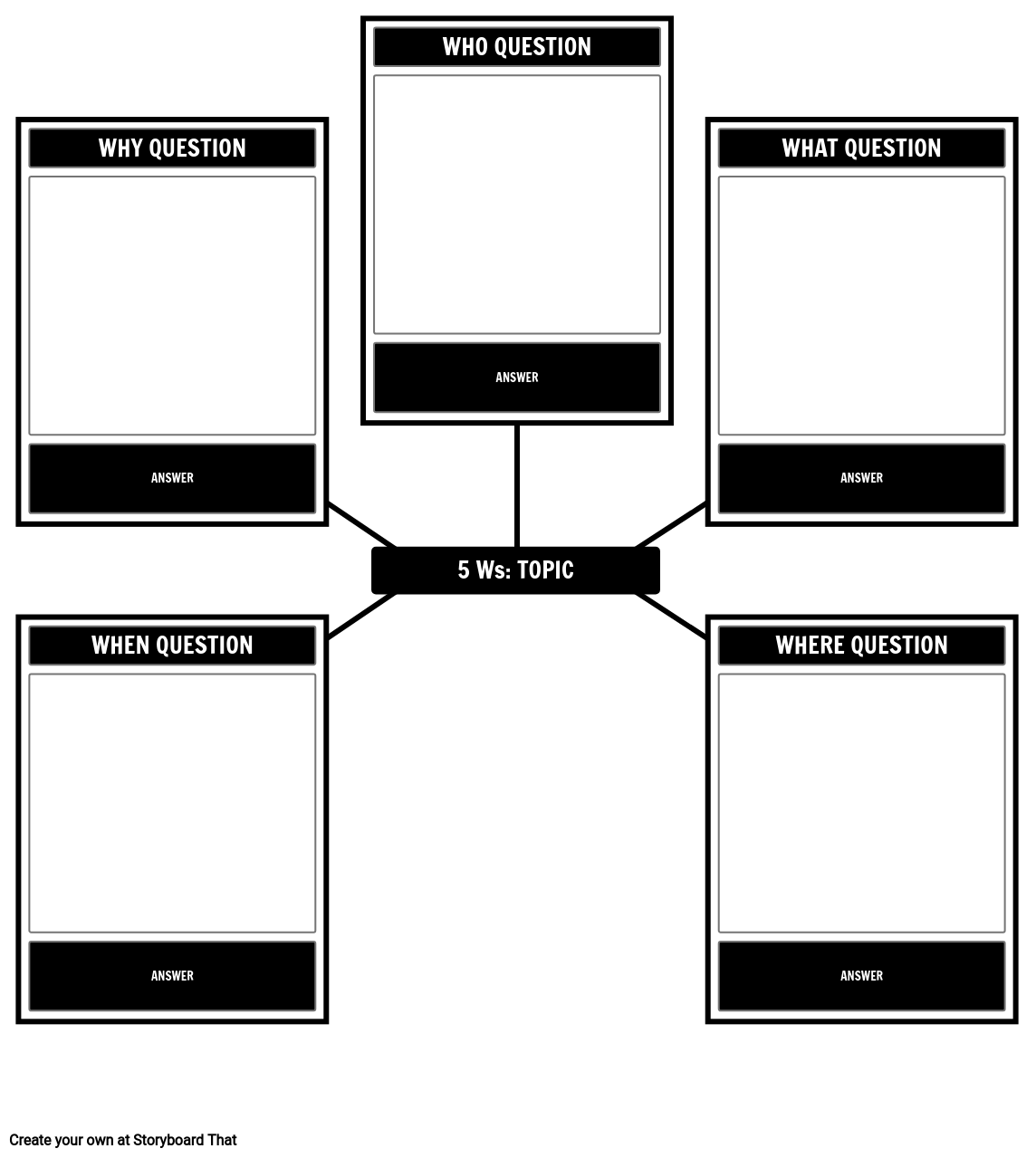 *(This will start a 2-Week Free Trial - No Credit Card Needed)
https://www.storyboardthat.com/lesson-plans/common-sense-by-thomas-paine/5-ws
© 2021 - Clever Prototypes, LLC - All rights reserved.