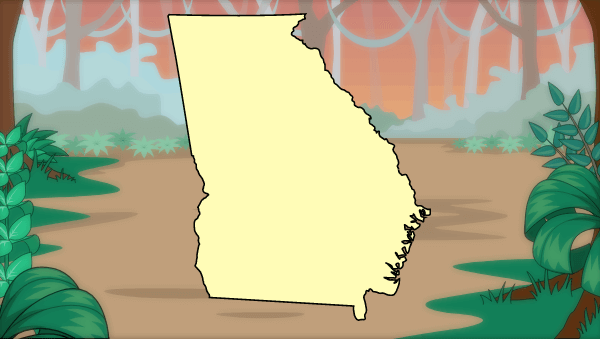 Georgia is a state in the Southeast with a rich culture with a variety of terrain. A state research project is the perfect summative activity for any U.S. Region, Geography class, or general research unit of study. Research is an important skill for children to learn at a young age; it exposes students to expository text, gives them practice determining important information, and enhances note taking and presentation skills. Students will enjoy learning all about Georgia, and why it is such a wonderful place to live and visit.
Student Activities for Georgia State Guide
All About Georgia
Date of Statehood: January 2, 1788 (4th state)
State Motto: Wisdom, justice, and moderation.
State Nickname: The Peach State
State Bird: Brown Thrasher
State Tree: Live Oak
State Flower: Cherokee Rose
Tourist Attractions: World of Coca-Cola, Martin Luther King, Jr. National Historical Park, Cloudland Canyon State Park, The Atlanta Zoo, Legoland Discovery Center, Savannah Children's Museum, and Chattahoochee Nature Center.
Famous Citizens of Georgia: Jim Brown, Jimmy Carter, Ray Charles, Julia Roberts, Martin Luther King, Jr., Jackie Robinson, Clarence Thomas, and Ryan Seacrest.
Capital City: Atlanta
Major Cities: Athens, Savannah, Columbus, and Augusta.
Brief History of Georgia
When the Europeans arrived in the land now known as Georgia, Native Americans had been living on the land for many years. The major tribes were the Cherokee and the Creek. The first European to explore the land was Hernando de Soto in 1540; he and his men were searching for gold. They did not treat the Native Americans well, did not find gold, and infected thousands of Native Americans with smallpox, leading to the death of many. The Spanish claimed the land and established many missions along the coast.
In 1773, James Oglethorpe founded the British colony of Georgia. He led 116 colonists to the coast of Georgia and settled on land that would become known as Savannah. As more colonists arrived, the colony of Georgia continued to grow. During the American Revolution, Georgia was one of the original 13 colonies that rebelled against the unfair taxes from England, and signed the Declaration of Independence in 1776. In 1788, Georgia became the 4th state admitted into statehood.
By the 1800s, a great deal of the land in Georgia was used to farm cotton, which was in high demand. The large plantation owners enslaved people from Africa to work in the fields, and by 1860, there were about 500,000 enslaved people living in Georgia. When the Civil War began in 1861, Georgia broke off from the Union and joined the Confederate states. One major part of the war was when Union General William Sherman marched from Atlanta to Savannah with his troops, destroying most of what came across their path. This weakened the South considerably, and the war ended less than six months later. It took a long time for Georgia to rebuild after the destruction of the Civil War.
Students will create a historical timeline, a postcard, a spider map, and a fun facts storyboard showing what they have learned about Georgia. Creating these visuals gives the students the opportunity to show their creativity and their unique view of the state that they have researched. In addition, the combined use of words and illustrations allows students with different learning styles to show what they know in an exciting and eye-catching way.
Essential Questions for Georgia
What are some significant events in the history of Georgia?
What are some facts and features that make Georgia unique?
What are some interesting places in Georgia that people would want to visit?
Find more lesson plans and activities like these in our
Social Studies
Category!
Schedule a free Guided Session with us to become a Storyboard That pro!