Allusions are present in many stories, referencing actual people, places, events, art, and literature. They help to plunge the reader into the time period in which the story takes place. Allusions can reference the political, social, artistic, and technological influences that are present in the characters' lives and, therefore, provide greater insight into the characters' thoughts and motivations.
Allusions provide important connections for readers to understand themes and characters on a deeper level. However, they can sometimes be hard for students to grasp, especially if they do not have the background knowledge to understand them. That is why it is important to point out and delve into allusions when they appear in a story so that students can learn their significance, and then analyze how their meaning enhances our understanding of the point the author is trying to make.
A great way for students to keep track of allusions in a story is in a visual and descriptive way using storyboards! Using the example and template provided in this assignment, teachers can have students track the allusions and their context in the work, and then after researching or class discussions, have them integrate a new cell that explains how that allusion enhances the meaning or the events of the work.
Allusion Definition:
Allusions are references to well-known
Events
People or Characters
Works of Art or Literature
Places
Religions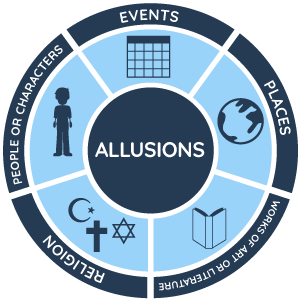 To tailor or scaffold this activity, teachers may provide students with a list of allusions before reading, before a new chapter, or afterward. They may also edit the template to add more cells depending on how many allusions they would like students to identify. Teachers can add as many templates as they want for differentiation and student choice! Be sure to update the student instructions as necessary.