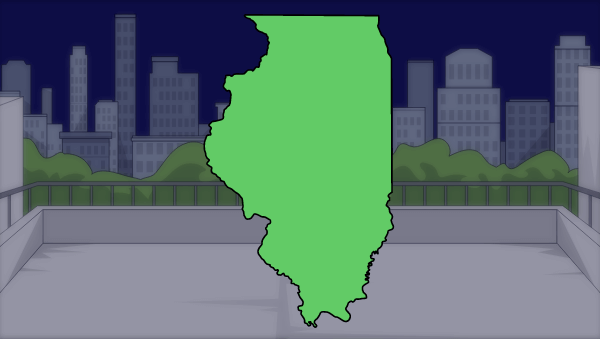 Illinois is a state in the Midwest with a variety of landscapes and places to visit, from Chicago to Starved Rock State Park. A state research project is the perfect summative activity for any U.S. Region, Geography class, or general research unit of study. Research is an important skill for children to learn at a young age; it exposes students to expository text, gives them practice determining important information, and enhances note taking and presentation skills. Students will enjoy learning all about Illinois, and why it is such a wonderful place to live and visit.
Student Activities for Illinois State Guide
All About Illinois
Date of Statehood: December 3, 1818 (21st state)
State Motto: State Sovereignty, national union.
State Nickname: The Prairie State
State Bird: The Cardinal
State Tree: White Oak
State Flower: The Violet
Tourist Attractions: Lincoln's New Salem, Shawnee National Forest, The Loop in Chicago, Navy Pier, Lincoln Park Zoo, Anderson Japanese Gardens, and the Willis Tower.
Famous Citizens of Illinois: Hillary Clinton, Walt Disney, Ernest Hemingway, Harrison Ford, Michelle Obama, Ronald Regan, and Eddie Vedder.
Capital City: Springfield
Major Cities: Chicago, Aurora, Rockford, Joliet, and Naperville.
Brief History of Illinois
Native Americans lived in Illinois long before the Europeans arrived in 1673. Often called the Mound People for the large mounds they built for burial sites and religious temples, some of the earliest cultures include the Paleo-Indians and the Woodland people. French explorers Jacques Marquette and Louis Joliet were the first Europeans to come explore Illinois, travelling along the Mississippi and the Illinois Rivers, and meeting the local tribes. They claimed the land, and soon other French settlers arrived and built forts and settlements in the region. The French had no intention of taking over the land; they got along with the Native Americans and were only interested in fur trading.
After the French and Indian War in 1763, Britain gained control over Illinois. However, after the Revolutionary War, it joined the United States as part of the Northwest Territory in 1787. Illinois continued to grow and thrive, and was admitted into the Union on December 3, 1818 as the 21st state. Because more and more Europeans were arriving, Native American tribes were forced to move out of the state. In 1832, a group of Native Americans, led by Sauk chief Black Hawk, returned to Illinois prepared to fight for the land. They were defeated by the U.S. Army in the Black Hawk War, and were forced to leave once again.
One of the worst fires in the history of the U.S. was the Great Chicago Fire in 1871. The fire started in a small barn in south Chicago on October 8th, although no one is quite sure how it began. Because the buildings and homes were made of wood with flammable shingle roofs, they caught fire very easily. There had also been a long drought and the winds were strong and dry, causing the fire to spread quickly. The fire completely destroyed over 17,000 buildings and homes, leaving about 100,000 people homeless.
Students will create a historical timeline, a postcard, a spider map, and a fun facts storyboard showing what they have learned about Illinois. Creating these visuals gives the students the opportunity to show their creativity and their unique view of the state that they have researched. In addition, the combined use of words and illustrations allows students with different learning styles to show what they know in an exciting and eye-catching way.
Essential Questions for Illinois
What are some significant events in the history of Illinois?
What are some facts and features that make Illinois unique?
What are some interesting places in Illinois that people would want to visit?
Find more lesson plans and activities like these in our
Social Studies
Category!
Schedule a free Guided Session with us to become a Storyboard That pro!