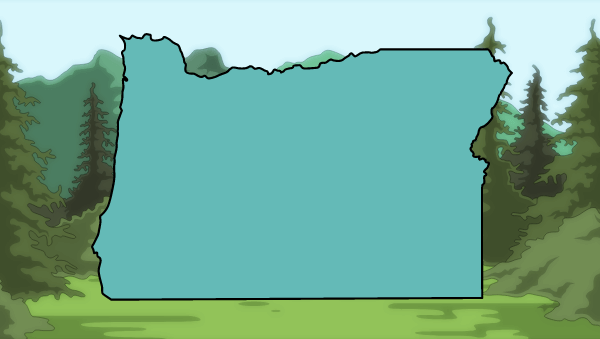 Oregon is a state in the Northwest of the United States, and is home to lush landscapes and lots of fun places to visit. A state research project is the perfect summative activity for any U.S. Region, Geography class, or general research unit of study. Research is an important skill for children to learn at a young age; it exposes students to expository text, gives them practice determining important information, and enhances note taking and presentation skills. Students will enjoy learning all about Oregon, and why it is such a wonderful place to live and visit.
Student Activities for Oregon State Guide
All About Oregon
Date of Statehood: February 14, 1859 (33rd state)
State Motto: She flies with her own wings.
State Nickname: The Beaver State
State Bird: Western Meadowlark
State Tree: Douglas Fir
State Flower: The Oregon Grape
Tourist Attractions: Crater Lake National Park, Columbia River Maritime Museum, Seaside Promenade, and the Oregon Coast Aquarium.
Famous Citizens of Oregon: Beverly Cleary, Tonya Harding, Jacoby Ellsbury, James Beard, Matt Groening, and River Phoenix.
Capital City: Salem
Major Cities: Portland, Eugene, Salem, Hillsboro, and Beaverton.
Brief History of Oregon
People have lived in what is now Oregon for thousands of years. Before the European explorers arrived, many Native American tribes inhabited the land such as the Chinook, the Klamath, and the Nez Perce. In the 1500s, explorers such as Sir Francis Duke saw the Oregon coastline but did not come to the land. Many years later in 1792, American explorer Captain Robert Gray came upon the Columbia River.
In 1803, the United States signed the Louisiana Purchase, and bought a large region of land from the French. This land was mapped out by famous explorers Lewis and Clark. They traveled all the way to the Pacific Ocean at the mouth of the Columbia River, where they built a small fort called Fort Clatsop. Over the next several years, explorers and fur trappers arrived from Great Britain and the United States to claim land, and in the 1840s, settlers began traveling to the area using the Oregon Trail. Over the next 20 years, so many Americans settled in that region that Great Britain gave up the land in 1846, and Oregon Territory was established in 1848. As Oregon continued to grow, it broke off from the other regions, and was admitted into statehood on February 14, 1859 as the 33rd state.
The discovery of gold in the 1850s brought even more people to Oregon. As a result, there was even less land for the Native Americans, who were there long before the others. The Nez Perce tribe was forced to move to a smaller reservation, and when gold was discovered on their reservation in 1863, they were told they had to move yet again. The tribe put up a fight and tried to flee to Canada, but were pursued by the U.S. Army, resulting in the Nez Perce War. Ultimately the Nez Perce tribe lost and was forced to move to Native American territory in Oklahoma.
Students will create a historical timeline, a postcard, a spider map, and a fun facts storyboard showing what they have learned about Oregon. Creating these visuals gives the students the opportunity to show their creativity and their unique view of the state that they have researched. In addition, the combined use of words and illustrations allows students with different learning styles to show what they know in an exciting and eye-catching way.
Essential Questions for Oregon
What are some significant events in the history of Oregon?
What are some facts and features that make Oregon unique?
What are some interesting places in Oregon that people would want to visit?
Find more lesson plans and activities like these in our
Social Studies
Category!
Schedule a free Guided Session with us to become a Storyboard That pro!