What Does PEST Stand For?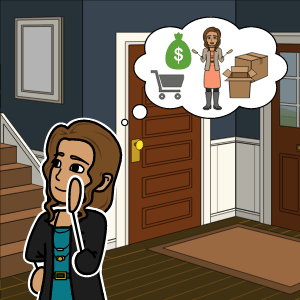 Like a SWOT analysis, PEST contains four components: Political, Economic, Social/Cultural, and Technological. These four categories describe the big picture of where the business is situated, usually on a national or regional level. It is especially important to consider long term trends in a PEST analysis, as they may be more apparent in the world at large before their effects are felt on particular industries.
When preparing for the future, companies engage in strategic planning. This process looks at factors both inside and outside the company, and frequently employs a SWOT analysis, or similar framework, to organize the information generated. Strategic planning that examines external factors is called environmental scanning.
PEST analysis is a cornerstone of environmental scanning. Like Porter's Five Forces, a PEST analysis looks outside the organization to the surrounding environment. However, unlike the Five Forces, which concentrate on the industry which surrounds a company, a PEST analysis looks at the large-scale (macro) environment outside of the industry. Just like the Five Forces, PEST corresponds to the Opportunities and Threats in SWOT.
PEST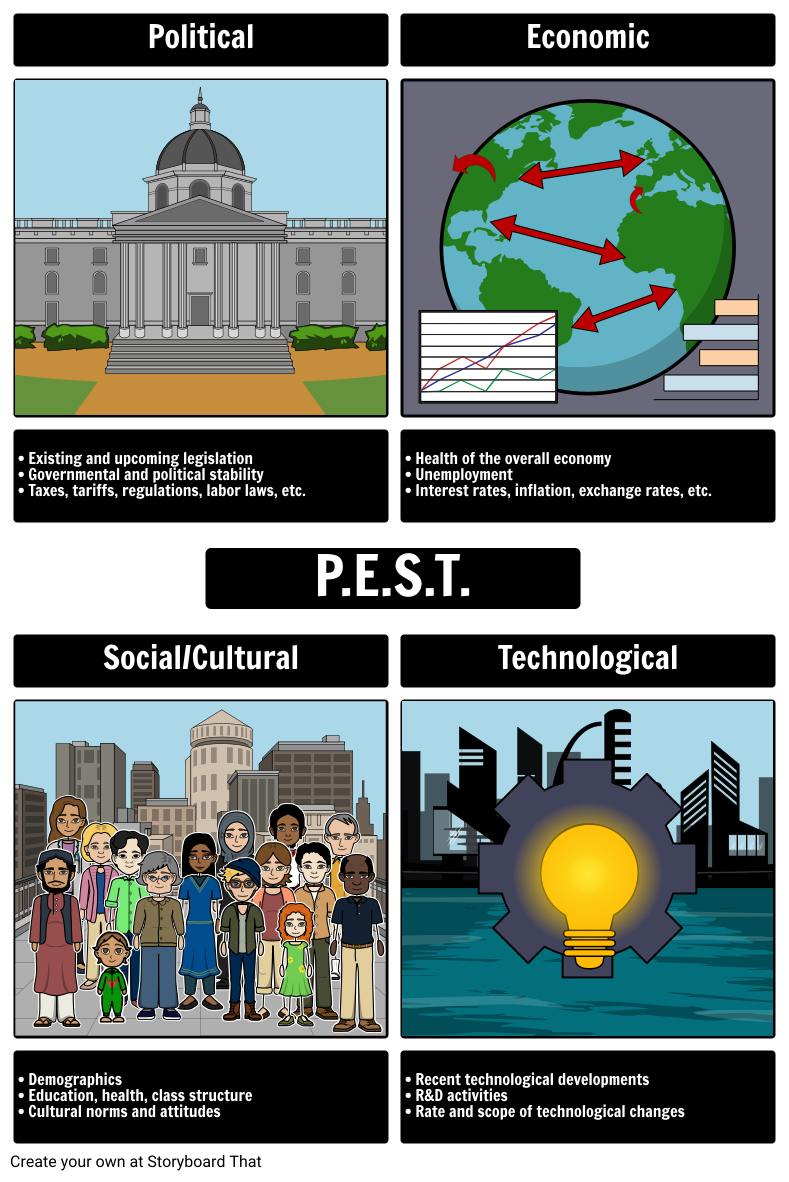 PEST analysis can be expanded with more granular categories, such as the Legal (SPELT), Ecological (PESTLE), Ethical (STEEPLE), Demographic (STEEPLED), or Intercultural (SPELIT). Normally these would be subsumed into one of the four PEST categories, but for businesses where these specific factors will have a particularly strong impact, it can be useful to separate them out.
How to Perform a PEST Analysis
To start a PEST analysis, brainstorm for a while, then select the three or four factors from each category that are most likely to drive or change your business. When you've isolated these primary concerns, illustrate the most significant. For each category, you can use a spider map to organize your brainstorming effort, or to present further detail in your analysis.
Don't try to be exhaustive in listing factors under each category, there is always another item that can be added. Instead, remember that the PEST analysis is a tool for understanding how the broader environment affects your plans. When you've finished, consider incorporating the factors you've identified as either threats or opportunities in a SWOT analysis.
When to Use PEST
PEST is a valuable component of environmental scanning, so there is no wrong time to do it. Any new business should survey the terrain before jumping into a new undertaking. Even stable and successful businesses can benefit from watching out for trends in the business environment. In short, anyone who is doing a SWOT analysis, can incorporate a PEST analysis into that process. Whether you are an entrepreneur or part of a corporate team, a PEST analysis will better prepare you for the threats and opportunities you will face now and in the future.
PEST Narrative