Finding Your Storyboard
Locate your storyboard under MY ACCOUNT.

Click on the storyboard you want to share or download.
If the storyboard you are looking for is not on the first page, click the "View More Storyboards" button.
Sharing
The sharing capabilities vary depending on whether you're an individual user or a student or teacher with a classroom subscription. These have to do with privacy settings within classroom portals.
Classroom Sharing
Student storyboards are automatically private, shared only between the student and teacher. When they're saved to an assignment, only the teacher can view and comment on their storyboards.
Teachers have the ability to change the privacy of any student's storyboard when they are viewing it by clicking the "Storyboard Privacy" button below the storyboard.



In order to share the storyboard with classmates who are viewing the assignment, the teacher can select "Shared with Class/Assignment".
Student storyboards can be made public and accessible via the link.

Please make sure this is acceptable with your school policies, COPPA, CCPA, GDPR, and FERPA before clicking "Public".
Sharing
URL
The easiest way to share a storyboard is simply copying and pasting the URL link to the storyboard.
All storyboards on free accounts are automatically public—this privacy setting cannot be changed.
Private storyboards can be shared with the link.
Storyboards created by teachers or students cannot be shared with outside users via a link. Refer to the section above for instructions on sharing within classrooms.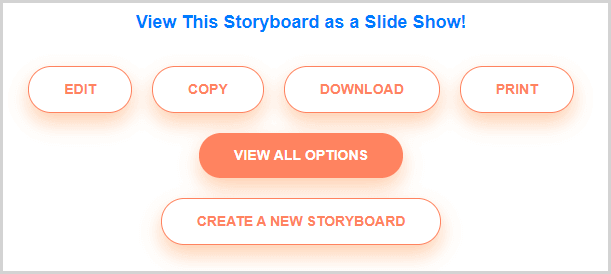 Embedding
Embedding the storyboard allows you to include the storyboard on your website or blog using the html code. Simply make the storyboard public, click the "Embed" button, and copy and paste the code.
*Storyboards must be made public to use the embedding feature.
Social Media
There are different buttons below each storyboard that allow you to share it on Twitter, Pinterest, Facebook, Google+, and Evernote.
Click the button for your desired social media, and you can edit the post that is generated. It includes a link to the storyboard.
You can also download your storyboard in an image optimized for social media by clicking "Download Images/PowerPoint" and uploading it to your social media outlet of choice.
Other Options
Presenting
You can download your storyboard as a presentation for PowerPoint, Keynote, or Google Slides.
You can also use the "Slide Show" button to present your storyboard in the browser.
Downloading
When you download your storyboard, you can upload the image or email it. Click the "Download Images/PowerPoint" button below the storyboard.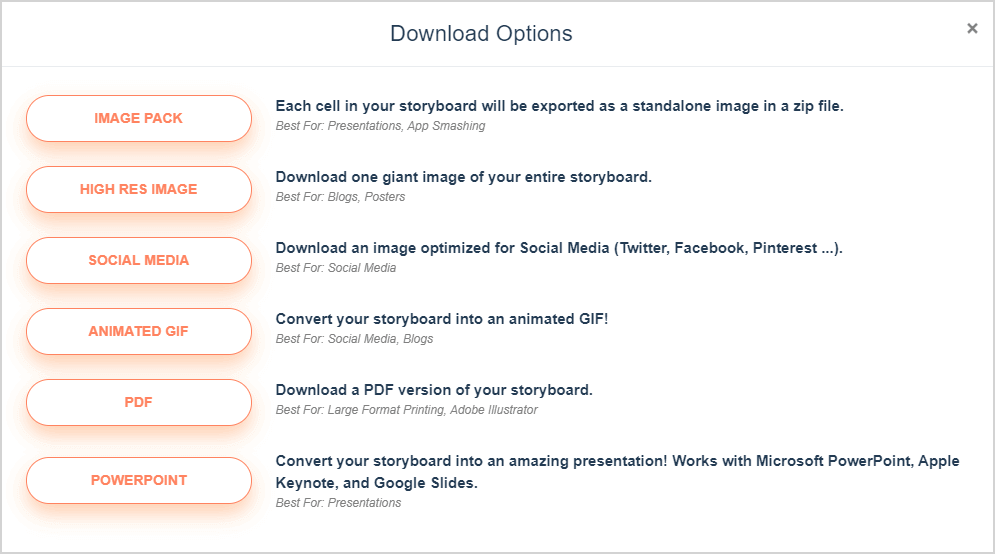 Image Pack
A zip file will download, containing each cell of your storyboard as an individual image file. This is great for creating presentations that focus on each image within a storyboard.
High Resolution Image
Your entire storyboard will be contained in one image file, which is great for uploading online or creating posters.
Social Media
Your storyboard will be downloaded in one file, optimized for posting on Social Media.
Animated GIF
Your storyboard will be downloaded in a GIF format. For more information on optimizing your storyboard for a GIF, check out this article on making gifs with Storyboard That!
PDF
Your storyboard is downloaded into a PDF file, which you can print out!
PowerPoint
When you click on the PowerPoint button, a PowerPoint file will download. Each cell of the storyboard gets its own PowerPoint slide, with room for you to add text descriptions. This is especially great for presenting and adding more description or explaining each picture.

This function also works with Keynote and Google Slides.
*(This will start a 2-Week Free Trial - No Credit Card Needed)