https://www.storyboardthat.com/lesson-plans/13-colonies/literature-connections
Activity Overview
There are many books related to Colonial America that can help students better visualize and understand the time period. Some short picture books can be used as a whole class read-alouds, where other longer books can be used as longer novel studies. In this activity, students will create a plot summary of a book they have read or a book shared with the class.
Here are some examples of literature that relate to the 13 Colonies:
Due Date:
Objective: Summarize the story in a 3-5 cell storyboard describing the main events in the beginning, middle, and end of the story.
Student Instructions
Read the story.
Click "Start Assignment".
Create a 3-5 cell storyboard with descriptions and illustrations showing the sequence of major events in the story.
Save and submit your storyboard.
Lesson Plan Reference
Grade Level 3-6
Difficulty Level 2 (Reinforcing / Developing)
Type of Assignment Individual
Type of Activity: Plot Diagrams and Narrative Arcs
Common Core Standards
[ELA-Literacy/RL/5/1] Quote accurately from a text when explaining what the text says explicitly and when drawing inferences from the text.
[ELA-Literacy/RL/5/2] Determine a theme of a story, drama, or poem from details in the text, including how characters in a story or drama respond to challenges or how the speaker in a poem reflects upon a topic; summarize the text.
[ELA-LITERACY/CCRA/R/1] Read closely to determine what the text says explicitly and to make logical inferences from it; cite specific textual evidence when writing or speaking to support conclusions drawn from the text.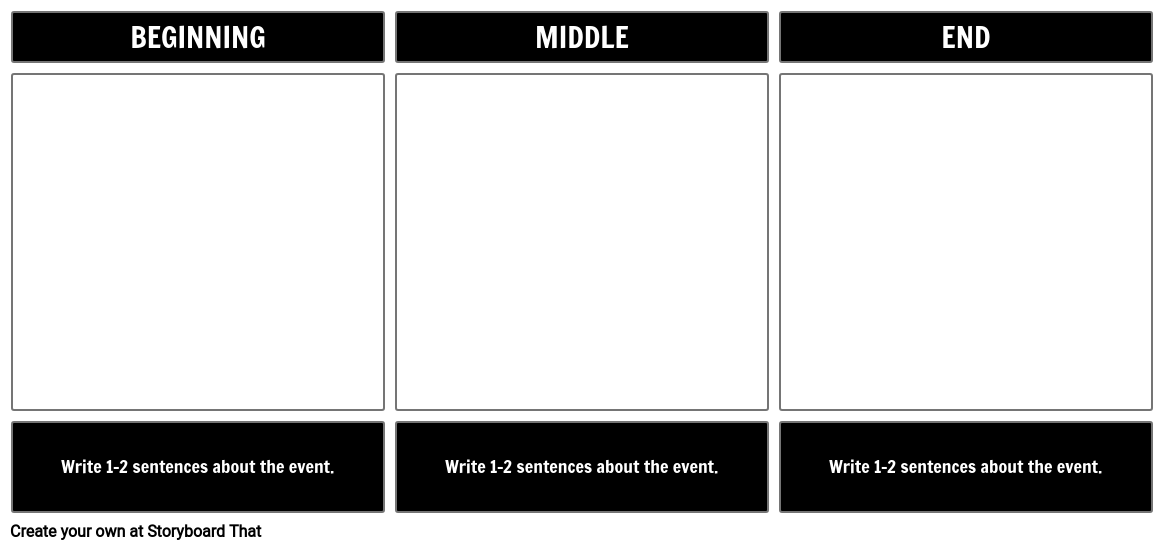 Create a storyboard that shows a sequence of events. Below each cell, type in a description about the importance of that part of the story.
Proficient
Emerging
Beginning

Each of the cells represents a different part of the story. The cells are in order from beginning to end.

One cell is out of order, or the storyboard is missing important information.

Important information is missing and/or two or more cells are out of order.

Cells include images that accurately show events in the story and do not get in the way of understanding.

Most images show the events of the story, but some are incorrect.

The images are unclear or do not make sense with the story.

Descriptions match the images and show the change over time.

Descriptions do not always match the images or mention the importance of the event.

Descriptions are missing or do not match the images.

Spelling and grammar is mostly accurate. Mistakes do not get in the way of understanding.

Spelling is very inaccurate and hinders full understanding.

Text is very difficult to understand.
*(This will start a 2-Week Free Trial - No Credit Card Needed)
https://www.storyboardthat.com/lesson-plans/13-colonies/literature-connections
© 2021 - Clever Prototypes, LLC - All rights reserved.