https://www.storyboardthat.com/lesson-plans/indigenous-peoples-of-the-eastern-woodlands/vocabulary
Activity Overview
Starting a unit or lesson with the key vocabulary that students will see in their readings or presentations aids in overall comprehension and retention. In this activity, students will create a spider map that defines and illustrates key vocabulary related to the region of the Eastern Woodlands and its First Nations. Each cell will contain a term, its definition and an illustration that depicts the meaning. When students define and illustrate each term, they master the application of it and retain it as part of their lexicon.
Indigenous Peoples of the Southwest Vocabulary
Iroquois Confederacy
Cayuga
Oneida
Erie
Onondaga
Seneca
Tuscarora
Mohawk
Pequot
Fox
Shawnee
Wampanoag
Delaware
Menominee
Mohegan
Wigwam
Longhouse or Birchbark House
Wampum
Canoe
Moccasins
Three Sisters
Iroquois Confederacy
Sachem
Due Date:
Objective:Create a storyboard that demonstrates your understanding of different words using both an illustration and a definition.
Student Instructions
Click "Start Assignment".
In the title boxes, identify the key terms you have chosen.
In the description boxes, write the definition of the term.
Create an illustration for each term using appropriate scenes, characters, and items.
Save and submit your storyboard.
Requirements: Must have 3 terms, correct definitions and appropriate illustrations for each that demonstrate your understanding of the words.
Lesson Plan Reference
Grade Level 4-5
Difficulty Level 2 (Reinforcing / Developing)
Type of Assignment Individual
Type of Activity: Visual Vocabulary Boards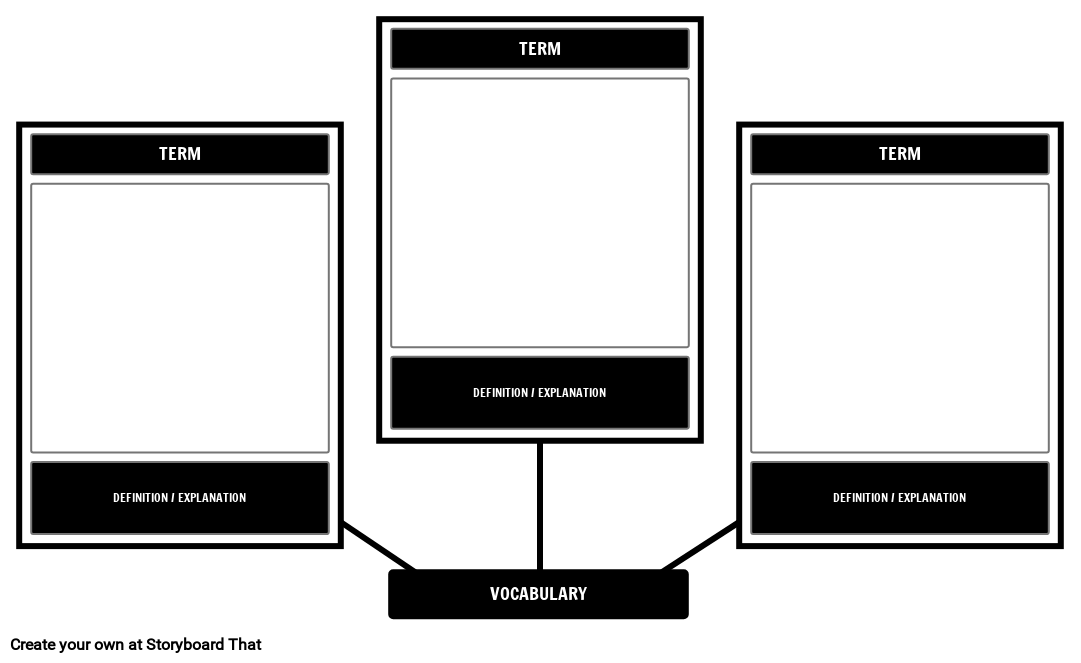 Define and illustrate each of the key terms.
Proficient
7 Points
Emerging
4 Points
Beginning
1 Points

The vocabulary words are correctly defined.

The meaning of the vocabulary words can be understood but it is somewhat unclear.

The vocabulary word is not clearly defined

The storyboard illustrations clearly depict the meaning of the vocabulary words.

The illustrations relate to the meaning of the vocabulary words but it they are difficult to understand.

The illustrations do not clearly relate to the meaning of the vocabulary words.

Work is well written and carefully thought out.

Work shows some evidence of effort.

Work shows little evidence of any effort.
*(This will start a 2-Week Free Trial - No Credit Card Needed)
https://www.storyboardthat.com/lesson-plans/indigenous-peoples-of-the-eastern-woodlands/vocabulary
© 2021 - Clever Prototypes, LLC - All rights reserved.