https://www.storyboardthat.com/lesson-plans/kenyas-long-dry-season-by-nellie-gonzalez-cutler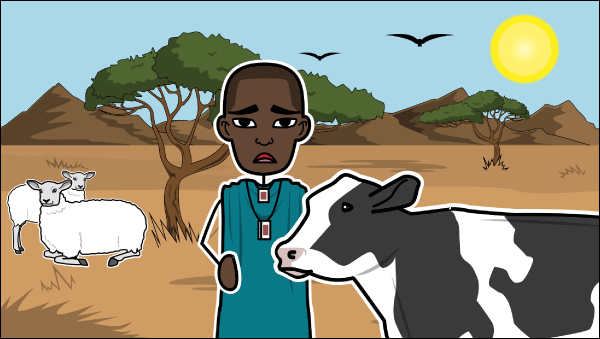 The informational article, "Kenya's Long Dry Season", by Nellie Gonzalez Cutler, describes the hardship felt during the 2009 drought in that country.
Student Activities for Kenya's Long Dry Season
A Quick Synopsis of "Kenya's Long Dry Season" (Contains Spoilers)
"Kenya's Long Dry Season" begins by identifying the problem: the East African nation of Kenya is experiencing a severe drought, resulting in the loss of crops and a struggle by animals and people to survive. Kids are being taken out of school to work for their families, though schools that provide food have a lower dropout rate. In order to help feed families and to keep kids in school, the United Nations World Food Program (WFP) asks for $230 million in donations.
Essential Questions for "Kenya's Long Dry Season"
What effects do droughts have on a community?
Should people help those in other countries? Why or why not?
Find more storyboard activities like these in our
Elementary School
Category!
*(This Will Start a 2-Week Free Trial - No Credit Card Needed)
https://www.storyboardthat.com/lesson-plans/kenyas-long-dry-season-by-nellie-gonzalez-cutler
© 2022 - Clever Prototypes, LLC - All rights reserved.