https://www.storyboardthat.com/lesson-plans/matilda-by-roald-dahl/parts-of-a-story
Matilda Summary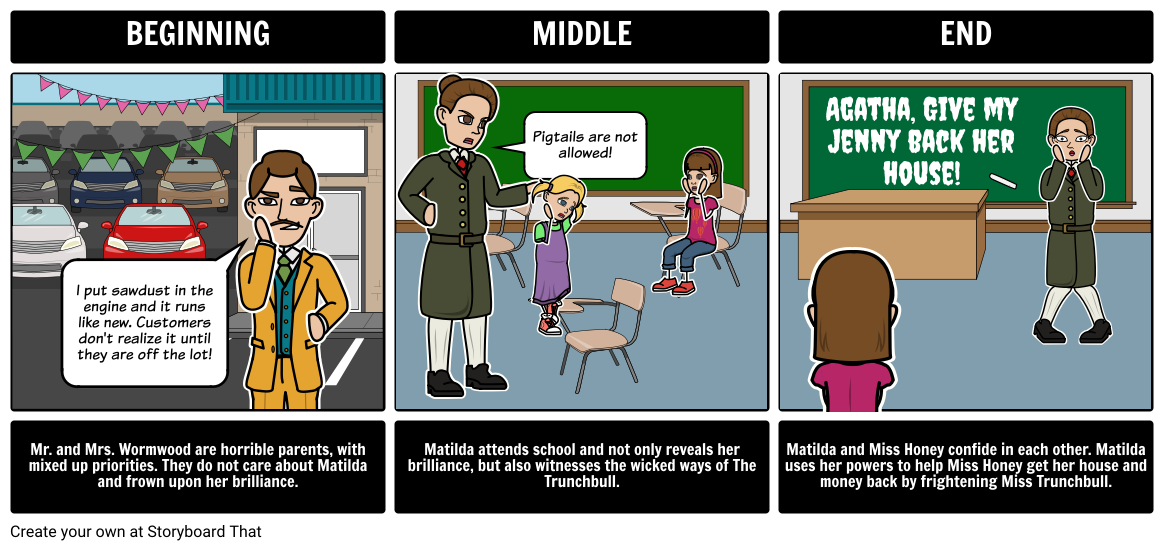 Activity Overview
In this activity, students will demonstrate their comprehension of the text through summarizing three or more events.
Example of a Concise Summary of Matilda
Beginning
In the beginning of the novel, the author provides descriptions of the Wormwood family, including examples of how they are unfit parents, and how cruel they are to Matilda.
Middle
In the middle of the novel, Matilda attends school and meets Miss Honey, her teacher who is interested in her brilliance and wants to help her.
End
In the end, Matilda and Miss Honey confide in each other, and help each other get rid of their enemies: the Wormwoods and Miss Trunchbull.
Lesson Plan Reference
Grade Level 4-5
Difficulty Level 3 (Developing to Mastery)
Type of Assignment Individual or Partner
Type of Activity: Parts of a Story
Common Core Standards
[ELA-Literacy/RL/5/2] Determine a theme of a story, drama, or poem from details in the text, including how characters in a story or drama respond to challenges or how the speaker in a poem reflects upon a topic; summarize the text.
Student Instructions
Make a storyboard summary of Matilda.
Make a picture that shows the beginning of the story.
Make a picture that shows the middle of the story.
Make a picture that shows the end of the story.
Write a sentence under each picture.
BME Template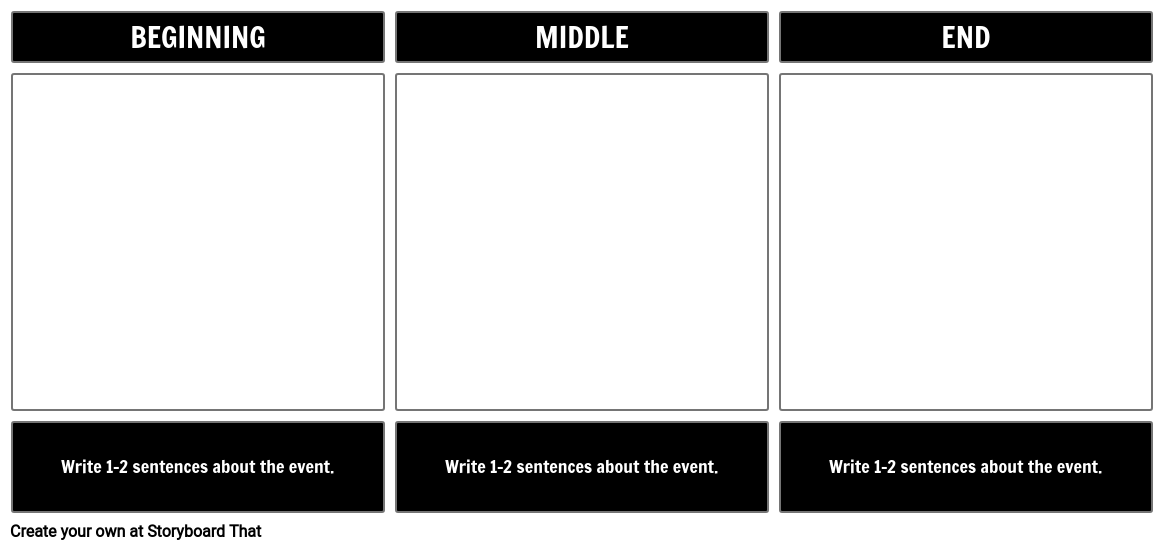 Single Teacher
As low as /month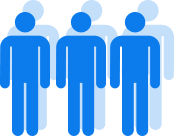 Department
As low as /month

School/District
As low as /month
*(This will start a 2-Week Free Trial - No Credit Card Needed)
https://www.storyboardthat.com/lesson-plans/matilda-by-roald-dahl/parts-of-a-story
© 2020 - Clever Prototypes, LLC - All rights reserved.
Over 15 Million
Storyboards Created