https://www.storyboardthat.com/lesson-plans/night-by-elie-wiesel/plot-diagram
Activity Overview
A common use for Storyboard That is to help students create a plot diagram of the events from a book. Not only is this a great way to teach the parts of the plot, but it reinforces major events and help students develop greater understanding of literary structures.
Even true stories, like memoirs, can have a plot arch. Students can create a storyboard capturing the narrative arc of Night with a six-cell storyboard containing the major parts of the plot diagram. For each cell, have students create a scene that follows the book in sequence using Exposition, Conflict, Rising Action, Climax, Falling Action, and Resolution.
Student Instructions
Create a visual plot diagram of Night.
Click "Start Assignment".
Separate the story into the Exposition, Conflict, Rising Action, Climax, Falling Action, and Resolution.
Create an image that represents an important moment or set of events for each of the story components.
Write a description of each of the steps in the plot diagram.
Save often!
Lesson Plan Reference
Grade Level 9-12
Difficulty Level 1 (Introducing / Reinforcing)
Type of Assignment Individual or Partner
Type of Activity: Plot Diagrams and Narrative Arcs
Common Core Standards
[ELA-Literacy/RL/9-10/1] Cite strong and thorough textual evidence to support analysis of what the text says explicitly as well as inferences drawn from the text
[ELA-Literacy/RL/9-10/3] Analyze how complex characters (e.g., those with multiple or conflicting motivations) develop over the course of a text, interact with other characters, and advance the plot or develop the theme
[ELA-Literacy/RL/9-10/5] Analyze how an author's choices concerning how to structure a text, order events within it (e.g., parallel plots), and manipulate time (e.g., pacing, flashbacks) create such effects as mystery, tension, or surprise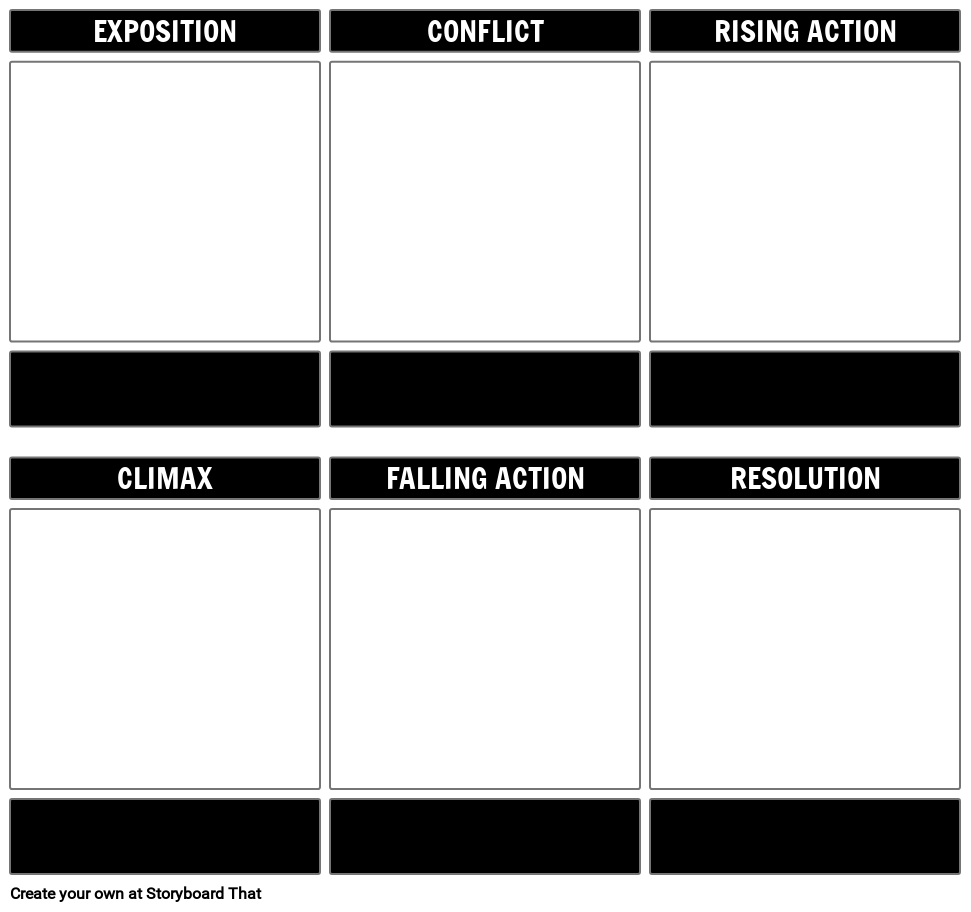 Proficient
33 Points
Emerging
25 Points
Beginning
17 Points

Creativity and imagery are used effectively (helps to tell the story). At least three Textables are included in plot diagram.

Creative elements (clipart) are somewhat distracting. At least two Textables throughout their plot diagram.

Creativity is minimally apparent, and the overall design shows a lack of effort. Clipart may be confusing and distract from the story. Student used one or fewer Textables.

Spelling within the Textables is mostly correct (fewer than eight errors). Grammar does not hinder understanding.

Spelling within textables is somewhat correct (fewer than 10 errors). Grammar may hinder some understanding or make reading difficult.

Spelling is mostly incorrect (10 or more errors). Grammar severely hinders understanding.

There are three complete slides: one for beginning, one for the middle, and one for the end. Slides explain the work of prose and are easy to follow.

There are three cells, but one or two do not depict the correct element within the work of prose (e.g. the beginning is misplaced). Story is somewhat difficult to follow.

One or more cells is missing. Only one part of the plot is represented (e.g. only the beginning). Story is hard to follow.
*(This will start a 2-Week Free Trial - No Credit Card Needed)
https://www.storyboardthat.com/lesson-plans/night-by-elie-wiesel/plot-diagram
© 2021 - Clever Prototypes, LLC - All rights reserved.