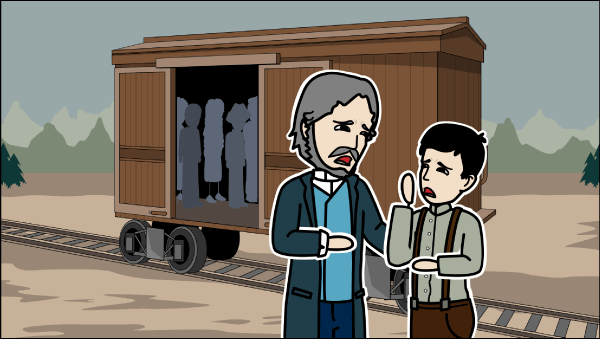 Night by Elie Wiesel is an autobiographical story, told by Wiesel, depicting his life and journey through the Holocaust as a young boy. In his memoir, he discusses growing up as a devout Jewish boy, and continues the novel through his time spent in Auschwitz, a notorious Nazi concentration camp. The novel ends with his liberation and briefly touches upon his life at the end of WWII.
These resources for the Holocaust may or may not be appropriate for some groups of students. Please use your best judgment when selecting materials for your students. For more information about teaching the Holocaust, see our History of the Holocaust lesson plans.
Storyboard That also offers an extended image pack (included with subscription) which contains graphic imagery, including Holocaust victims and Nazi soldiers. Due to the nature of this material, it is hidden by default. Modify your account settings.
Student Activities for Night
A Quick Synopsis of Night
In the beginning of his novel, Elie dives into his deeply religious beliefs and discusses his interest in pursuing religious studies. All of that changes when the Nazis arrive in his small town. Despite the warnings and rumors, by 1944 Elie, his family, and his town are moved into a ghetto.
When the Nazis came again, the Jews are sent to Auschwitz-Birkenau. Men and women were segregated, and Elie was divided from his family, except for his father. Elie relates the atrocious events that occurred inside the camp, and gives insight to the theme of survival and faith.
Essential Questions for Night
What kind of hate is racism? Does racism exist in our society today?
Do people control groups or do groups control people?
How does prejudice lead to violence?
In what ways does a person seek or lose faith in dire situations?
---
Check out other lesson plans on history and literature during World War II and Holocaust