https://www.storyboardthat.com/lesson-plans/ode-on-a-grecian-urn-by-john-keats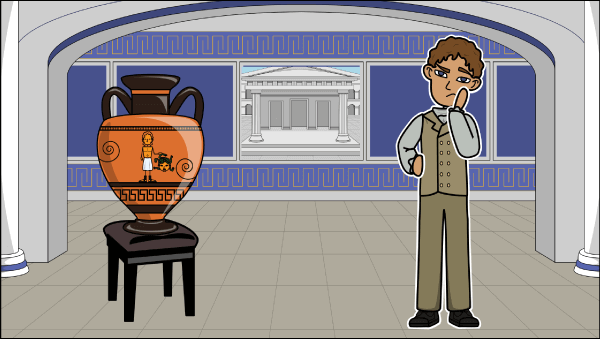 "Ode on a Grecian Urn" transports the reader back in time as the narrator observes the decorations of an ancient urn. The poem uses vivid language to sketch life in Ancient Greece, including music, landscapes, and romance. This lesson plan will help students focus on the literary elements in Keats' poem and to pinpoint important passages and ideas.
Student Activities for Ode on a Grecian Urn
Brief John Keats Biography
John Keats is one of the greatest English poets, whose short life had more than its share of tragedy and hardship. Keats' father died when when the boy was eight years old. Following several financial missteps Keats' mother left the children in the care of their grandparents, before dying of tuberculosis a few years later. Keats' style was formed through the suffering he observed in life, and the consolation he found in both art and literature. He became a passionate writer, valuing the beauty in everything. His characteristic romantic style attempted to tackle big philosophical ideas through vivid language and classical imagery. Keats died of tuberculosis at the age of 25. However, he left the world with lasting legacy of his vision in words.
Find more lesson plans and activities like these in our
English Language Arts
Category!
*(This will start a 2-Week Free Trial - No Credit Card Needed)
https://www.storyboardthat.com/lesson-plans/ode-on-a-grecian-urn-by-john-keats
© 2021 - Clever Prototypes, LLC - All rights reserved.